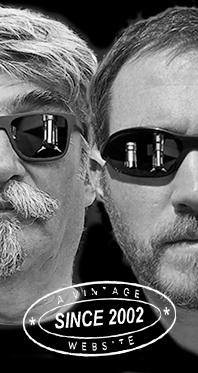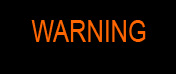 ....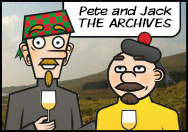 2012
December 1 - 2
November 1 - 2
October 1 - 2
September 1 - 2
August 1 - 2
July 1 - 2
June 1 - 2
May 1 - 2
April 1 - 2
March 1 - 2
February 1 - 2
January 1 - 2


2011
Music Awards
December 1 - 2
November 1 - 2
October 1 - 2
September 1 - 2
August 1 - 2
July 1 - 2
June 1 - 2
May 1 - 2
April 1 - 2
March 1 - 2
February 1 - 2
January 1 - 2


2009
December 1 - 2
November 1 - 2
October 1 - 2
September 1 - 2
August 1 - 2
July 1 - 2
June 1 - 2
May 1 - 2
April 1 - 2
March 1 - 2
February 1 - 2
January 1 - 2





The Magical History
of the Great
Brora Distillery
1969 - 1983




All the linked files (mp3, video, html) are located on free commercial or non-commercial third party websites. Some pictures are taken from these websites, and are believed to be free of rights, as long as no commercial use is intended.

I always try to write about artists who, I believe, deserve wider recognition, and all links to mp3 files are here to show you evidence of that. Please encourage the artists you like, by buying either their CDs or their downloadable 'legal' tracks.

I always add links to the artists' websites - if any - which should help you know more about their works. I also try to add a new link to any hosting website or weblog which helped me discover new music - check the column on the right.

I almost never upload any mp3 file on my own server, except when dealing with artists I personally know, and who gave me due authorizations, or sometimes when I feel a 'national' artist deserves wider recognition. In that case, the files will remain on-line only for a few days.

I do not encourage heavy consumption of alcoholic beverages, nor dangerous motorbike riding. But life is short anyway...

As they say here: 'L'abus d'alcool est dangeureux pour la santé - à consommer avec modération'
Leave feedback


Copyright Serge Valentin,
Nick Morgan,
Kate Kavannagh
2002-2013







December 10, 2013

---

Two indie Bunnahabhain 1987

Isn't it funny how some batches/series from one single distillery manage to suddenly catch the attention of many a whisky lover? This time it's a bunch of sherried Bunnahabhains 1987 that seem to be all of high quality. Let's have two more!

Bunnahabhain 25 yo 1987/2013 (49,4%, The Whisky Agency, Perfect Dram, Fino hogshead, 255 bottles)

Colour: pale white wine. Probably refill. Nose: I wouldn't say the sherry's very obvious. There might be some kind of fino/manzanilla notes but those may as well come from the distillate. Talking about the distillate, it's absolutely lovely, firm and tense, maybe more 'islands' than other Bunnahabhains, with some brine, cut apples, a bit of linseed oil, then more grapefruits and a little leather. It's also a little farmyardy, with even distant whiffs of seaweed fire as well as drops of sauvignon and blackcurrant leaves. Really elegant and superbly self-restrained. Mouth: more fruits, less mineral and farmyardy notes. I also find a lot of vanilla, which came unexpected. Custard, slightly sour, maybe. Other than that, rather gooseberries, apples, grapes, a little lemonade and a spoonful of damp earth. Very slightly fizzy. Finish: good length. Now more barleyish. Porridge with banana slices, perhaps. Comments: I think I liked the nose a little better this time, but the whole is of high quality once again, like everything in this series. Maybe did the fino impart this wee sourness?

SGP:452 - 86 points.

Bunnahabhain 26 yo 1987/2013 (50,2%, Archives, sherry, cask #2557, 233 bottles)

Colour: full amber. Nose: what's really interesting is to check to which extent both whiskies are close to each other despite a much darker colour this time. Almost like the TWA with an added layer of cigar tobacco and old Pu-erh tea. A wee bit more mineral too, with even two or three struck matches. Mouth: some big and spicy bitter oranges, some strong tea, both green and black, some tobacco, some gingerbread and a quite a lot of nutmeg. Not a typical spiciness for a sherry cask, unless it was European oak. Good mouth feel. Finish: long and very spicy. Bitters, herbs liqueurs, bay leaves and more nutmeg. Comments: a wee feeling of new oak in this one, where does that come from? Otherwise it's a very great Bunnahahain, even I tend to like them even better when thy're a notch smooother. Ha, smoothness!

SGP:462 - 89 points.

December 9, 2013

---

More quarrelsome Highland Park

Maybe you remember that I had found the three first - and cheaper - bottlings from the 'NAS warriors' series quite underwhelming. My impressions have since been confirmed, blind, by my compadres the malt maniacs, but there are also more recent warriors that are said to be in another league. Let's see!

Highland Park 'Sigurd' (43%, OB, travel retail, 70cl, 2013)

Colour: gold. Nose: relatively smooth and easy, with ripe melons and peaches, as well as whiffs of eucalyptus and camphor. That's nice. Also a little crème brûlée and touches of liquorice. I think there's much more happening than in the previous warriors. More and more overripe apples after ten minutes, as well as old walnuts. Mouth: a little thin but not as frustrating as the '40%'. Tarte tatin and orange cake, earl grey, mead and apple juice. A touch of salt, a little Ovaltine, some liquorice... And some honeydew. Finish: rather short and a little drying. Tea. Nice oranges, soft spices and honey in the aftertaste, though. Comments: certainly a very, very fine Highland Park but a little more oomph would have been welcome. Whether it's worth €150 remains to be discussed (how PC is that?)

SGP:441 - 85 points.

Highland Park 'Ragnvald' (44.6%, OB, travel retail, 70cl, 2013)

Colour: gold. Nose: a completely different planet. This one hints more at the old glories, with all these precious honeys, the mild smoke, the touches of metal polish, the hints of fruitcake and the lovely combination of cigar smoke and cedar wood. Wonderful phenols and waxes. We're really talking now. Mouth: indeed. High quality HP, phenolic, medicinal, with many precious woods and spices mingled with ripe fruits and herbal teas as well as a little menthol. Prefect body this time. I especially like the notes of mango cake and honeydew, as well as the touches of bitter oranges that never stop growing. Finish: quite long this time and rather spicy. Cardamom and pepper, oranges again, maybe one or two slices of tinned pineapples... A little salt playing with your lips after you've swallowed it all. Comments: this one really delivered. The finish is rather spicier than other oldies - because there's probably quite some old HP in the mix - but the fruits remain fresh and vivid. The joys of multi-decade vatting, I suppose.

SGP:652 - 90 points.

No Thorfinn around, so let's have a new independent version instead...

Highland Park 28 yo 1985/2013 (48.3%, Cadenhead, Authentic Collection, bourbon hogshead, 252 bottles)

This one was bottled in October this year. Colour: straw. Nose: it's a fruit salad, more or less, with just a little sunflower oil and some barley water. And this works quite brilliantly! No I won't list all fruits, but I could tell you that there's also a little paraffin coming out after five minutes, together with some green tealeaves. Becomes drier, leafier, grassier and waxier over time. The fruits are gone after ten minutes, but I love waxes and oils in whisky, so... Mouth: perfect... for me. If you don't like waxy, grassy, sharpish palates, you may continue your way ;-) but if you do and give this baby a little time, you'll be rewarded with limes and grapefruits as well as touches of salt and 'extreme' green tea, Japanese style. What a distillate! Finish: long and extremely well chiselled. Agreed, that also means 'narrow', but high definition can also be an asset. Comments: does little but does it extremely well. For aficionados, I'd say.

SGP:362 - 90 points.

Pete McPeat and Jack Washback

December 8, 2013

---

Two refreshing new Swedish malts

Sweden is another country where there are more and more new malt distilleries. Don't they already have five of them? I guess the cool climate up there must make any spirits mature very slowly, so heavy wood may be needed unless you can wait for decades and decades. Anti-Indian malts, in a way...

Spirit of Hven Seven Stars No.1 (45%, OB, Dubhe Single Malt Whisky, Sweden, +/-2013)

This one was made on an island, and does not come cheap. However, such new ventures are very costly so around €95 is probably pretty normal. Colour: gold. Nose: interesting! And I'm not saying interesting while meaning 'bad', not at all. In fact it's a somewhat empyreumatic whisky at fist nosing, with unexpected whiffs of camphor, bandages and cough syrup... Was that pine wood??? (just kidding). There's also quite some vanilla and then the expected notes of ginger and porridge, while the medicinal side tends to disappear. Mouth: amusingly, the same camphory and piny notes strike first and give this baby a feeling of dry herbal liqueur, or even naked pastis. Some aniseed indeed, wormwood, liquorice... And once again, that goes away and quick, leaving room for oak, ginger and a dry graininess. Finish: good length but it tends to become a notch cardboardy. Comments: a two-step whisky. I liked the first step better, but I think this sure is a fine effort. Will probably improve over the years.

SGP:362 - 75 points.

Smögen 3 yo 2010/2013 'Primör' (63.7%, OB, Sweden, casks #5 & 14-21)

The very first bottling by Smögen, that already had a great reputation even before any bottling was released. How did they do that? It's highly peated malt (45ppm) and I like it that they disclose the age instead of going NAS and using an unlikely name straight from wikipedia. Colour: deep gold. Nose: a wee bit too strong at almost 64%, we have to be careful, but I do get something like... wouldn't that be smoked butter and orange fudge with a little soft curry powder? With water: the oak went to the middle distance, while the smoke comes out, although that one remains light. More spicy oranges, raw barley and touches of full grain bread. Pumpernickel? New oak but no wham-bam vanilla and coconut, that's cool. Mouth (neat): fights and bites you. Some prickliness, spearmint, ginger, bitter oranges, crystallised melon, lemons, tonic water... Needs water for sure. With water: that worked, even if it remains very spicy and kind of 'gin-tonic-y'. The gingery side remains obvious but it blends well with the smoke. Sweet mustard. Finish: long, between bitter oranges, ginger and a little sawdust. The smokiness is more obvious in the aftertaste. Comments: a funny combination of traditional and 'modern' tastes. Very entertaining, I doubt one could do much better with 3yo malt and new oak. Most encouraging, kudos, the future is bright for Smögen.

SGP:464 - 83 points.

Today:

JAZZ

. Performer: Sun Ra. Track: one of the most beautiful renditions of Body and Soul.

Please buy

Sun Ra's

music

...

December 6, 2013

---

Dufftown thirty years after

I know I've been tasting many new whiskies this year, probably too many in fact, and I feel I've been neglecting the 'old glories'. It's just that old glories can wait, they'll only become even older. However, having both new and old bottlings within the very same session can be fun too. Let's try that again today, with some Dufftown...

Singleton of Dufftown 18 yo (40%, OB, +/-2013)

We had only tried the Singleton 12 yo until today, a fair ' introductory' malt. Colour: gold. Nose: relatively soft and quite leafy/leathery at first nosing, while it would rather develop on overripe apples and old walnuts. There's also a little tea and tobacco, before it becomes maltier. No big nose but there's some complexity. Mouth: I like the profile quite a lot, a shame that it's so light and thin. Really feels diluted but the profile itself is quite wonderful indeed, with oranges (both bitter and very fruity), overripe apples, oriental pastries (with honey and orange blossom water) and then a little quince jelly. Touches of crushed bananas. Finish: short, sadly, but love the sultanas and the tea (earl grey). Comments: a superb composition almost murdered with Scottish water. The world needs a cask strength version! Or even 45.8% vol. would do! Loses a good nine or ten points because of its very frustrating weakness on the palate.

SGP:451 - 79 points.

Let's go back in time and see what a higher strength can do...

Dufftown-Glenlivet 8 yo (80° proof, OB for Ghirlanda, Italy, +/-1968)

We've already tried several old 8s but never with this label bearing a 'red distillery' (instead of a white one). Geek stuff, I agree, but 80° proof UK means 46% vol... And warning, these old Dufftwons 8 can be either 'meh' or utterly stellar. Colour: straw. Nose: not meh for sure. Old Highlands style in full swing, with great whiffs of shoe polish, metal polish, engine oil, Seville oranges, camphor, soot, ashes and walnuts. Same kind of tobacco as in the current 18. Perfect power. Enough! Mouth: absolutely superb, just like their bros the Blair Athols from the same era could be, although the Dufftowns used to be fatter and less fruity. That's exactly the case here, it's very waxy and kind of petroly, with then a lot of old liqueurs, tars, oils and crystallised oranges and citrons. An unbeatable style. Finish: long, pleasantly sour (towards lemons and green apples), which further 'lifts' it. Wonderful freshness and the aftertaste is unexpectedly salty. A wee bit of mustard too. Comments: fabulous. Now, watch out, the versions at 46% or 80° proof are incomparably better than the ones at 40% or 70° proof. So make no mistake, should you try to find these old bottles.

SGP:552 - 92 points.

In theory, we should stop here but the flesh is weak... Will this baby manage to 'climb over' the glorious old 8, despite a lower strength?...

Dufftown-Glenlivet 1963/1977 (70°proof, Berry Bros & Rudd, 26 2/3 FL OZS)

So, only 40% vol. but these bottlings are legendary... And more sherry may do the trick. Colour: mahogany. Nose: philosophical, theological and introspective (to the point, S.!) That translates mainly into roasted chestnuts, furniture polish, chocolate and black raisins, then a whole bag of herbs and dried flowers. Orange leaves, wormwood, chamomile, eucalyptus, honeysuckle... Also a little soy sauce and some iron (old tools). After twenty minutes, we're almost nosing an armful of Habana cigars. An amazing nose, extremely profound and... philosophical. Mouth: the sherry works as an amplifier, as expected. The 40% vol. (probably more like 37% vol. after 35 years in the bottle) feel more like around 43 or 44% vol. And there's a lot of menthol, eucalyptus, camphor and liquorice, which makes this baby as fresh as some lightly sugared Chartreuse (so a very old bottle that got really dry). I'll spare you the chocolate and all the other flavours, I can hear the anti-maltoporn brigade coming. Finish: all right, it does lose a little steam now, but the profile remains superbly mentholated. Comments: quite stunning despite the low strength, only the finish is a little weak. Malt lovers often mention G&M or Cadenhead when talking about 'the greatest early indy bottlers'. Do not forget BBR!

SGP:462 - 92 points.

December 5, 2013

---

Strathisla is a perfect Christmas malt, especially all the smoothly sherried old ones that G&M have granted us with through the ages, usually at very fair prices. But as I like to contradict myself just for the sake of it, let's rather have some lightly coloured ones today...

Strathisla 10 yo (43%, OB, Chivas Brothers LTD, early 1960s, 75cl)

A very old one from the times when owners Chivas used to 'push' Strathisla a little more than today. Why they don't bottle more Strathisla - and Longmorn - these days remains a mystery to many a whisky enthusiast. Colour: gold. Nose: this will be quick, it's a Provençal beehive in early August, with quite a few herbs and grasses around it, as well as a few old forgotten tools. Kss kss kss kss kss kss (that's not the bees, that was rather supposed to be the sound of cicadas singing their heads off in Provence.) Mouth: superb, all elegance and refined fruitiness, with a lovely base made out of beeswax and a little nutmeg. Precious apples, oranges, long-forgotten varieties of pears (what?) and then a carefully composed blend of herbal teas. Chamomile, honeysuckle, hawthorn... More a string quartet than a philharmonic orchestra, but it's great music. Finish: a little short and certainly drier, which is pretty normal. Waxy and lemony aftertaste ala old Clynelish. Comments: striking balance and elegance. These very old bottlings of 10yo Strathisla - when they kept well - were masterpieces.

SGP:552 - 91 points.

Strathisla 23 yo 1989/2013 (58.1%, Berry Bros & Rudd, Switzerland, cask #5966) Colour: pale gold. Nose: powerful and rather more on the grassy/floral side at first nosing. There's also more clear lemon and green apples, which makes it all very 'responsive', so to speak. It's even quite mineral, kind of chalky on the nose, in a good way. With water: some pleasant sour notes, cider, beer, apple juice... A little fresh sawdust and vanilla too, as well as even more 'yellow' flowers. Mouth (neat): absolutely excellent, with a fruitiness that I find typically Aberlour/Longmorn/Strathisla, in a way. I hope that makes sense! So rather western orchard fruits, apples, plums, pears, yellow berries (gooseberries and such)... All that with drops of liquid wax. Oily mouth feel. With water: became even fruitier. Some barley water. Finish: medium length, on the same notes. Even more apple juice, maybe? Comments: state of the art very moderately oaked fruity spirit. Extremely quaffable.

SGP:641 - 88 points.

I think we could have one more Strathisla. Let's see what we can find... (rummage rummage rummage)... Yeah, let's drop the lighter ones that wouldn't easily climb over the strong BB&R and rather choose the probably huge...

Strathisla 16 yo 1970/1987 (61.3%, Gordon & MacPhail for Intertrade, 75cl)

A sherry monster, probably... Colour: very dark amber. Nose: a bag of prunes. A huge bag of prunes. Prunes are so dominant that not much else manages to come through. With water: as expected, we now have a little earth, some raisins, touches of black cherries (that could be Chambertin ;-)), a little menthol, some liquorice... and always a huge bag of prunes. Mouth (neat): very, very armagnaqcy. Big prunes and no-less-big raisins (Corinth) with some chocolate. Not that monstrous but certainly quite monolithic when unreduced. With water: same proceedings as on the nose, a little more earth, maybe apple peelings, touches of mint... But it all becomes very chocolaty after a few seconds. Hot chocolate. Finish: surprisingly shortish (when diluted) but there's chocolate everywhere indeed. Maybe hints of marmalade too, but little spices. One clove? Comments: excellent, just as expected, but the sherry's really immense. Maybe will 25 more years in glass make the whole a little more complex? ;-).

SGP:641 - 87 points.

(with thanks to Franco and Jens)

Pete McPeat and Jack Washback

by Dave B

Today:

JAZZ

. Performer: Otomo Yoshihide. Track a wonderful long piece titled Eureka.

Please

visit

his

website and buy

his

music

...

December 4, 2013

---

Two or three St Magdalene 1982

Between us, I had feared no one would bottle some new St Magdalene anymore, not even some Linlithgow (same distillery by another name, as you very well know). So when I found out that the excellent Hart Bros just bottled one in October this year, well, I thought that was great news. The good old days aren't over yet! But as is customary, let's first have a little apéritif if you agree...

Linlithgow 1982/2011 (46%, The Ultimate, Rare Reserve, 284 bottles)

Colour: pale gold. Nose: typical. I know younger enthusiasts do not come across St Magdalene very often anymore, and could be misled by the 'Lowlands' appellation, thus think it must be a light and fruity/grainy malt. Quite the opposite! St Magdalene could be very leafy, petroly, earthy and metallic, which means that it's never been a very easy malt. Some have even been a little 'meh', but others were magnificently complex, even if also a little challenging at times. Anyway, let's cut the drivel, this one is very typical indeed, leafy and parafiny, with quite some plasticine and notes of rubbed lemon skin on top of some kind of smoky apple juice. Ah, whisky History! Mouth: more fruits on the palate and that's where St Magdalene could get closer to its compadres Bladnoch and Rosebank. Citrons and lemons first, then grapefruits, all that on quite some soot, some kind of light ashes and many leaves and herbs. Thyme, perhaps? And always wee bits of paraffin... Finish: not extremely long but the same favours remain there, while a saltiness appears in the aftertaste. Comments: no ooh-ah malt whisky, this is actually a little austere but I like this 'old style', almost 'un-commercial' style quite a lot. You just have to accept challenges ;-).

SGP:362 - 89 points.

St Magdalene 31 yo 1982/2013 (53.5%, Hart Bros, Finest Collection)

So yeah, a brand new bottling of St Magdalene, how cool is that? Colour: gold. Nose: this new one is even more extreme and 'pleasantly challenging' than the Ultimate, this time we find a huge bag of cut grass, leaves, fern and various herbs, with a faint soapiness, or rather an aroma that sits right between soap, fresh paint and putty. Sounds like a flaw but it isn't, it's just not an easy nose. So far! Also rubbed lemon peel again. With water: Barbour grease! Linseed and lamp oils! Paint! And maybe a few mushrooms as well. Mouth (neat): huge, very zesty, earthy, a tad soapy again, rather salty and also a little buttery. Don't trendy bartenders have a cocktail that uses lemon juice, paint, beetroot juice and cut grass? Maybe not... With water: water sorts this out. It became much cleaner - although St Magda's never totally clean - and even rounder - although St Magda's never totally round. More salt too, roots, turnips instead of beetroots... Finish: quite long, very dry now. Strong green tea, wax... Comments: I hate to write this but this baby's probably not for everyone. No easy dram, no easy dram... The exact opposite of a modern, sweet, light, oak-doped malt. Schönberg vs. Händel (will you cut that kind of crap one day, S.?)

SGP:262 - 86 points.

Let's have one more 1982...

Linlithgow 1982/2008 (61.8%, Càrn Mor, Celebration of the Cask, refill sherry butt, cask #2220, 582 bottles)

The strength is scary, reminds us of the very explosive and very superb 19yo Rare Malts, doesn't it. Colour: straw. Nose: yeah well, the high strength makes it shy, it seems, it's just a notch sugary and grassy. No St Magdalene can be like this ;-). Quick, water... With water: ooh this one swims well! No plasticine or soap or odd oils or whatever, rather minerals, fresh almonds and marmalades, then leaves 'as usual' and just a wee touch of white vinegar - it certainly isn't acetic. Also love the earthiness, the hints of oily rum Jamaica-style and the touches of black olives. A very complex malt. Mouth (neat): huge, extremely oily and powerful. Big liquorice! It's liquorice liqueur at cask strength, with only three drops of lemon juice. With water: absolutely perfect. More tobacco, teas, earths and citrus. Fab zestiness but with a lot of complexity. Finish: Comments: this monster needs a little time and quite some pipette work, but then... It really delivers! Superb, very stylish.

SGP:462 - 92 points.

December 3, 2013

---

Malt Maniacs Awards 2013
The results have been published!
Great work once again by Master of the MM Awards Keith Wood and his gang (Oliver, Robert...) As for the winners, the same names keep fighting for the top positions, it seems, but Japan, India, and Taiwan are gathering more and more gold year after year.
You'll find all the results at Malt Maniacs.

Tasting some pricey Ardbeg single cask

So! Let's have that Ardbeg 1992 by Douglas Laing that caused such a stir on the Malt Maniacs' Facebook page - and 120 comments at time of writing - because of its very hefty price: around £450 a bottle, while other bottlers such as Cadenhead's or Whiskybroker were recently offering some similarly aged Ardbegs for around £80 to £110. The excellent, and friendly, and very engaging, and very smart (and, and, and) bottlers argued that the whisky's stunning and that the very long distribution channel, that is to say agents, wholesalers and retailers - not to mention taxes and excises - where guilty as well, while other bottlers are selling 'direct', so at a much lower cost, through their own networks or websites. Fair enough, but let's see how this baby compares to another Ardbeg from the same years (so not from the glorious 1970s) and at a similar strength, that I'll simply select at random from my shelves. Eenie meenie miney mo, that one will be the...

Ardbeg 12 yo 1990/2003 (46%, High Spirits, 312 bottles)

Ouch, a sherried Ardbeg, hope this will remain fair... Colour: very dark amber. Nose: it's a very smoky and tarry one. Chestnuts being roasted over a fir cones fire, pitch, and then more and more earth, old musty cellar, even plain mud, wet dogs (I'm sorry, dogs)... Would rather go on with herbal liqueurs, chartreuse and that very strange drink that the Corsicans make, myrtle spirit. Old dunnage warehouse. We're really sitting right in the middle between the old sherried ones (say 1976 Feis Ile) and the more modern Ardbegs such as the recent Uigeadails. So, great nose. Mouth: the sherry tends to dominate a bit in the arrival, this is really as thick and oily as chestnut honey. Quite a lot of mint as well, honeydew, cough medicine and liquorice, then raisins and prunes that create a feeling of, say peated armagnac. A little curry too, bitter oranges, some cardamom, certainly quite some cloves... Maybe the sherry's a little too heavy, but other than that it's an excellent Ardbeg. Finish: the menthol comes out more but there's also a feeling of 'having just swallowed 10cl of olive oil'. Earthy and chocolaty aftertaste. Comments: a thick beast, not extravagantly peaty but our vegetal friend may be hiding behind the 'wall of sherry'.

SGP:476 - 90 points.

Ardbeg 21 yo 1992/2013 (48.6%, Douglas Laing, Old Particular, refill hogshead, ref #DL10065, 232 bottles)

Colour: pale gold. Nose: this baby's actually not perfectly comparable to the 1990, the styles are extremely different. This one's much cleaner, less peaty on the nose and much more on vanilla and yellow fruits such as peaches and mirabelles - at least at first nosing. More smoke (bonfire) and eucalyptus do come through after two or three minutes, though, together with some pinesap and a little antiseptic, as well as my beloved gentian (earth, roots, more antiseptic). There's even something a little vinegary, but that would be high quality balsamico, of course ;-). Fresh walnuts and almonds plus cider apples. It's a complex nose for sure, it keeps changing while remaining rather gentle. As far as the noses are concerned, I'd say it's more or less a tie. Mouth: a rather soft and smooth arrival with even a little pear liqueur and mild acacia honey, but it would then steadily accelerate, just like an old muscle car. This one's for Tarantino! Pepper, quinces, kippers, plum pie, quinine, lime, cough medicine and then more earthy touches that start to dance the tango with the limes and lemons. A great (and expensive) margarita. Finish: long, ultra-clean and zesty. Limes, smoke, seashells and the usual salty tang in the aftertaste. Comments: there's no denying that this is a great Ardbeg, of the 'ultra-clean' variety that's not exactly what we could find in the 1970s - or in the late 1990s-early 2000s. But remember these batches were made by the Laphroaig people! ;-). So, yeah, I think this one's pretty much unbashable - not saying that the price is right, of course!

SGP:466 - 91 points.

December 2, 2013

---

Indeed in my experience Benrinnes is another 'funny' malt whisky, usually rather meaty but displaying wildly different styles depending on the ages and on the kinds of casks. It's often quite fat.

Benrinnes 2002/2009 (46%, Càrn Mor Scottish Collection, hogshead, cask #5)

This one came in a 20cl bottle. I've found this series rather underwhelming but it's always pleasing to be able to taste near-newmake. Colour: almost white. Nose: apples, pears, porridge, beer and a little sunflower oil plus touches of barley water. It's not unpleasant, I have to say. After ten minutes, some Belgian gueuze beer. Mouth: sweet young malt whisky. Less fat and waxy than expected, rather on apple juice and a little orange. Same feeling of sweet beer as on the nose. Finish: medium length. Same flavours, apples... Comments: a pleasant drink, obviously immature but it could compete in the 'pot still vodka' category and possibly win. I like the fact th at this baby isn't oak-doped, it's not often that we can try some naked very young non-peater. No that wasn't a request.

SGP:431 - 78 points.

Benrinnes 12 yo 'Stronachie' (43%, A.D. Rattray, batch #02/12, 2012)

Colour: gold. Nose: this one's really funny! A lot of butter caramel at first sniffs, some white chocolate, some marzipan and then more and more very floral Swiss cheese. Meadows in summertime. The buttery side never stops growing while more honey (rather mead, actually) comes through, as well as wild mushrooms. I may be dreaming but that could well be horns of plenty. No I'm not joking. Unusual. Mouth: what was very nice in the nose is a little, err, embarrassing on the palate. Touches of rancid butter, cardboard, mead again (or Breton chouchen, and cider while we're at it), then a lot of fudge and caramel. Sticky toffee pudding. Finish: relatively long, buttery and rather maltier. Ovaltine in the aftertaste. Comments: so another funny/unusual one. I would put it in the same league as the Carn Mor.

SGP:441 - 78 points.

Benrinnes 15 yo 1998/2013 (47,9%, Sansibar, sherry, 233 bottles)

Colour: light gold. Nose: we have the same kind of slightly wacky nose as with the Stronachie, except that this 1998 has many more fruits and jams, which makes all the difference. Around greengage jam, maybe, citrons, cherries... Other that that, there's some fudgy notes again, some oils and waxes as well as a few drops of Chartreuse. Also a little beer, Ovaltine, Swiss cheese and butter again. An entertaining nose. Mouth: ah, the fun of it! This time we're finding one or two Toulouse violet bonbons, then malt, raisins, drops of armagnac and a little marmalade. Finish: long but much more acidic, in a way. Verjuice? It's very interesting to have a finish that literally wipes any fatty notes off your palate. Comments: this one was extremely entertaining and just for that it deserves one or two extra-points in my book.

SGP:561 - 87 points.

Let's have another, older one...

Benrinnes 21 yo 1979 (61.5%, Chieftain's Choice, +/-2000)

This one could be 'even more strange'. Colour: pale gold. Nose: actually, it's not really strange, we're rather having a lot of alcohol, almonds and cut apples. That's the high strength, I believe. With water: a lot, and I mean a lot of paraffin and plasticine. And that's not saponification smells from adding water as they just wouldn't go away. Behind that, a superb lemon and apple pie, it seems! Sob... Mouth (neat): as thick as honey. Mint syrup, concentrated orange juice and grass. Cough, cough, this is really very strong. With water: very paraffiny again. Not obligatorily unpleasant but when there's so much of all that, well... Also barley water and almond oil again. Finish: long and grassier. Plasticine and citrons. Comments: one of the thickest bodies I've came across this year. There is some fun again in this.

SGP:361 - 79 points.

Today:

JAZZ

. Performer: French-Egyptian guitarist Khalil Chahine. Track: Ninos.

Please

visit

his

website and buy

his

music

...

December 1, 2013

---

Light Glen Deveron vs. Macduff

Another headline that doesn't make any sense as Glen Deveron is just another name for official Macduff. It's quite big and cheap in France and very easy to find in supermarkets.

Glen Deveron 15 yo (40%, OB, +/-2013)

I've never found the 10 yo Glen Deveron very impressive, it's always been cruising along the 70-75 points line in my book. Colour: straw. Nose: one of the most grainy and porridgy noses I came across in recent months. Then we have a little sawdust, plain dust, touches of oranges and a combination of butter and green tea. Not quite yak butter tea, though... There's something friendly in this unassuming nose. Mouth: Scotch. This tastes exactly like 'Scotch', that is to say Scotch as Boeotians (right, philistines) think Scotch is tasting. Malty, very slightly honeyed, marginally toasted, with a touch of grassy bitterness and oranges. Finish: medium and average. Comments: honest Scotch that really tastes like Scotch, whether single or blended.

SGP:441 - 76 points.

Macduff 13 yo 2000/2013 (46.5%, Sansibar, sherry, 224 bottles)

Colour: gold. Nose: well in the style of many youngish sherried Macduffs, not a profile I'm very fond of, but reduction with water seems to have made it gentler. There are certainly quite a few used matches, quite a lot of butter caramel (Werther's!) and quite a lot of toasted brioche and bread. Slightly burnt chocolate cake straight from the oven. Mouth: quite strange. Bitter oranges, Campari, ginger and a both chalky and grassy side. It's becoming almost fizzy and prickly after a few seconds, with more grapefruit too, lemon drops, a wee feeling of 'plasticine smoked over a pile of burning matches' and, well, ginger tonic. Very unusual. Finish: quite long, the bitter oranges having become bigger, which isn't bad news. Comments: another funny one, I think. Demonstration malt whisky?

SGP:351 - 78 points.

Those Macduffs have been either honest or interesting, but maybe we need another one. Such as a much older one?

Macduff 16 yo 1963 (70° proof, Gordon & MacPhail, Connoisseur's Choice, black label, +/-1979)

The oldest Macduff I've ever tried - as far as distilling years are concerned. A 1964 black label by Cadenhead has been very good (WF 87) while a 1965 'small white label' had been excellent (WF 90). Colour: gold. Nose: yesss! We have these un-missable notes of old herbs liqueurs, putty, old-style fresh paint, old toolbox and dried mushrooms that scream 'good OBE', before it all gets much drier and more austere. No fruits left whatsoever, and even a feeling of old bone-dry Madeira, moss, leaves... It's a rather beautiful nose but once again, with these kinds of noses, the palates can be flat dead or very acrid. Let's see... Mouth: well, it's not, not at all. More fruits than on the nose (around overripe apples and 'metallic' mangos) and a medicinal side that, I'm almost sure, wasn't there when this baby was bottled. Eucalyptus tea? Having said that, it tends to become a little flat and drying towards the middle. Finish: rather short, leaving much black tea on your tongue but almost nothing else. Or maybe a little mint? Comments: it's a funny game to try to detect what was there in the first place and what came from bottle ageing. I'm not saying it's an easy game!

SGP:361 - 85 points.

Maybe we shouldn't leave it at that and try to find something that would be more enlightening. Such as a Macduff from a similar era, but bottled more recently and at a much, much higher strength. A challenge? You bet...

Macduff 35 yo 1969/2005 (61.1%, Duncan Taylor, Rare Auld, sherry cask, cask #3686, 105 bottles)

I haven't seen or heard much from Duncan Taylor's since months and months, but I've got a large stash of older DTs in my library, such as this old Macduff that was bottled at a staggeringly high strength (bad pun, S.) Colour: rich amber. Nose: how would a cocktail made out of acacia honey, cellulose varnish and young Sauternes work? I think that would be as much as a hit as this big yet complex nose. Pretty wonderful, going on with a lot of vanilla, wee touches of coconut and a good slice of freshly baked plum pie. More bourbon than sherry, quite funnily, and it's very nosable at 61% vol. With water: much farmier. Damp wood, but also these beautiful honeyed notes. Mouth (neat): same feeling of high-end bourbon, with oranges aplenty and some kind of peppery honey. Touches of icing sugar too, orange drops... No burn! Halas, it tends to become a little bitter. Just a little... With water: mild success. Becomes a little Fanta-ish. Finish: long and spicier. More cinnamon as always. I mean, as often. Comments: a real Janus. Make what you want out of that.

SGP:561 - 86 points.

November 2013

Favourite recent bottling:




Karuizawa 31 yo 1981/2013

(60.5%, OB for La Maison du Whisky, sherry butt, cask #78) -

WF 93





Favourite older bottling:




Very Old Highland Whisky

(Dymoch, Howden & Co. Ltd, Pure Malt, bottled +/-1910?) -

WF 96





Favourite bang for your buck bottling:




Kilkerran 9 yo 2004/2013 'Work in Progress - Bourbon Wood'

(46%, OB, batch #5) -

WF 91

Today:

UNCATEGORIZABLE

. Performer: John Zorn. Track: Makahaa.

Please

visit

John Zorn's

website and buy

his

music

...

November 29, 2013

---

The unlikeliness of Fettercairn - again

It seems that Diageo, now quasi-owners of Whyte & Mackay, are about to sell Jura and Fettercairn to other parties. I've read that that could be Campari, or Bacardi, or Jim Beam, or Brown Forman, or Russian investors, or Chinese investors, or Indian investors. Maybe time to have some Fettercairn?

Fettercairn 14 yo 1996/2011 (46%, Signatory Unchillfiltered, cask # 4241, 304 bottles)

Signatory had quite a few 1996s. No easy whisky, I think... Colour: pale gold. Nose: not easy for sure. I find some rubber, some raw malt, some raw eau-de-vie (farmer's kirsch) and touches of new plastic as well as a little soap and dust. On the better side, some oranges. How unsexy! Mouth: not quite. Fanta and green pepper, the whole feeling kind of chemical and frankly aggressive. After ten minutes, it's become grassy and bitter. Very challenging. Finish: not too long but with notes of cardboard and burnt herbs. Burnt mint leaves? More lemon in the aftertaste - hurray. Comments: a strange beast, acrid and totally unsexy. The aftertaste saves it.

SGP:352 - 74 points.

Fettercairn 19 yo 1993/2013 (54.1%, Cadenhead, small batch, bourbon hogshead, 462 bottles)

Colour: white wine. Nose: same kind of nose, but much cleaner, which changes everything. So rubber, plastic and kirsch have become much tinier and now represent assets rather than problems. As Paracelsus would have said, the dose makes the poison. Also quite some chalk and clay, then more grass. With water: works a treat, very nice lemons and hay. Mouth (neat): some kind of soapy lemon and lime, but that soapiness kind of works in this context, that's hard to explain. Maybe also a little cologny. With water: typical. Lemons, malt and 'plastic'. Very unusual but kind of works. Finish: medium length. More lemon and wax/plastic. Comments: I think Fettercairn is often difficult, but also that this one's rather in the upper echelon. I don't think we can ask for much more.

SGP:451 - 82 points.

Fettercairn 1990/2013 (51.5%, Malts of Scotland, bourbon, cask #MoS 13004, 242 bottles)

Colour: white wine. Nose: some sulphur this time, and that's not sulphur from the cask. It's also very butyric and almost rancid at times, quite an experience again! The good news is that all that tends to vanish, leaving more room for some pleasant lemony, mineral and porridgy notes. With water: tiny-wee notes of cabbage but other than that, it improved indeed. Lemon marmalade, limestone, chalk... Mouth (neat): I like this! It's the first that's 'immediately good', without detours and all on lemons and citrons (maybe ala Clynelish, in a way), with only a little barley sugar and no dirtiness. Good mouth feel. With water: waxier and, well, more Clynelish. How could we be against that? Finish: quite long, waxy and lemony. No more cabbage. Comments: fun stuff, needs water, plays with you.

SGP:551 - 84 points.

How about a very old official to round up this little session?

Fettercairn 30 yo 1955 (41.2%, OB, Whyte & Mackay, +/-1985)

My oldest Fettercairn ever. Colour: full gold. Nose: well, it seems that Fettercairn was already quite wacky back then, although that would rather go towards rotting tobacco bales this time, with the sulphury notes rather in the background. Hay, farmyard, leather, ham, then more oranges, patchouli, menthol, more tobacco... A very intriguing nose, I'm really curious about the palate. Mouth: very good arrival but tends to nosedive after only two or three seconds. In the arrival, oranges, tobacco and soft spices (cloves, cinnamon cake). Not a lot after that, except one or two mint drops and a little liquorice. Finish: very short and obviously cleaner than expected. A little burnt caramel and a little malt, plus funny touches of kippers in the aftertaste. Comments: it's good that no one ever considered rebottling some of these in ugly decanters and selling them back at Asian airports for silly money. It's very good old whisky at times, the attack is actually great, but it really lacks oomph by today's standards. Partly flattish.

SGP:341 - 82 points.

Today:

JAZZ

. Performer: Don Pullen. Track: a fab Ode to life.

Please

visit

his

website and buy

his

music

...

November 28, 2013

---

Another name that we're seeing a little more at the indies these days, whether it's spelled Braeval or Braes of Glenlivet. I think Braes can take sherry very well.

Braeval 9 yo (40%, Douglas Laing for Fortnum & Mason, +/-2010)

This one should be very light. Colour: straw. Nose: barley, barley and barley all over the place, then a few nuts, honey and some white bread. All that is very light yet kind of pleasant, it won't offend anyone, especially the blend drinkers who are/were shopping at the poshy Fortnum & Mason store in Piccadilly. That's where I had found this humble baby. Mouth: very light, like a good sweet ale. Cornflakes, overripe apples, vanilla and a little toasted cake. Goes down without thinking. A little tobacco, perhaps. Finish: not that short, all on overripe apples. Comments: not much to say, this is very fair light malt whisky a kind of bridge between the big blends and the malts.

SGP:431 - 78 points.

Braeval 15 yo 1997/2013 (50%, Hunter Laing, Old Malt Cask, ref #9888) Remember the OMC range is now to be found at Hunter Laing's rather than at Douglas Laing. Colour: very pale white wine. Nose: ho-ho, this is interesting! Mature malt whisky without any obvious traces of oak - not to mention wines -, all on earth, green bitter apples, gravel and clay. Also wonderful grapefruits and even whiffs of coal smoke. Remarkable! With water: the best apple juice ever. Lovely earthiness and just hints of youthful pineapples. Mouth (neat): wow! A big surprise, a perfect blend of all things waxy/mineral with some lighter citrus and a little peppermint. No, quite some peppermint. Perfect nakedness. With water: perfect, maybe just too much gritty grassiness. Finish: quite long, relatively narrow but ultra-clean. Menthol in the aftertaste. Comments: really, a surprise. I've had some wonderful sherry monsters from Braes but this naked one is just as impressive. Feels northern Highlands at times.

SGP:552 - 88 points.

Braes of Glenlivet 1994/2013 (54.6%, Càrn Mor, Celebration of the Cask, bourbon, cask #159181, 218 bottles) Colour: pale gold. Nose: excuse me? Is this really Braes? Big wax, flints, tangerines, citrons, oils and beach sand, we could as well be at Clynelish. Serious! With water: some fresh fruity oak coming out. Very sexy but I'm not 100% sure I should like this. No more Clynelish, sob, sob... Mouth (neat): full fruits including litchis, then vanilla, orange blossom, rosewater and a lot of coconut. Very active American oak, this palate has nothing to do with the nose when undiluted. How funny! (well...) With water: pina colada and barley water. And liquorice allsorts. Very easy/sweet palate. Finish: medium length and... very Irish pure pot still. Comments: could this be a mis-stenciled (right, mis-barcoded) Redbreast? Very good, very good... And wow, Braes!

SGP:641 - 87 points.

November 27, 2013

---

WWI Scotch by old wine merchants

| | |
| --- | --- |
| A useless session? Well, it surely is useless as far as availability is concerned, as these babies are totally unobtainable, but to the taster they're real gems as they're most probably single malts and possibly come from long-gone distilleries. Sadly, it's totally impossible to retrieve this kind of information but who knows, maybe we'll now have sips of pure Dalaruan, Auchtermuchty, Stromness or Dalintober? Who knows?... We'll have the youngest first. As for their strengths, no ideas! And as for WWI, let's simply remember this great quote by Captain Edmund Blackadder (as far as I can remember): "A war hasn't been fought this badly since Olaf the Hairy, High Chief of all the Vikings, accidentally ordered 80,000 battle helmets with the horns on the inside." (with apologies to Highland Park ;-)) | |

Very Old Highland Whisky (Dymoch, Howden & Co. Ltd, Pure Malt, bottled +/-1910?)

This old glory had a driven cork. Dymoch Howden used to be wine merchants and grocers in George Street, Edinburgh. It's most probably single malt and it could as well have been bottled in the very late 1800s! Colour: pale gold. Nose: old style of course, that is to say full of waxes, linoleum, oils and tars (and straight pitch), with then more herbs and saps, citrons, tangerines (huge), a wee chalkiness and puffs of exhaust fumes from an old Rolls-Royce (well, not too sure about that one. Ahem.) After ten minutes or so, rather more plasticine and fresh putty, with also a little more chalk. It's all very complex and profound, we're almost nosing History - and old artillery. Magnificent. Mouth: high-impact, peaty, citrusy and sooty arrival, impressively assertive and imposing. Feels well like we're around 43 to 45% vol., at this age! If we had to mention one or several contemporary distilleries, I'd say we're right between Talisker, Springbank and peaty Glen Garioch. I even find oysters, mind you. Absolutely wonderful and totally 'Old Highlands'. Becomes even waxier over time, with a growing spiciness. Pepper, cinchona... Amazing. Finish: incredibly long, salty, peppery, smoky, waxy, medicinal and lemony. Comments: that that much peat remained after all these years suggests that this baby was a very heavy hitter when it was bottled. Totally exceptional. I'd surely kill to know the name of the distillery that made this!

SGP:455 - 96 points.

Special Scotch Whisky 50 yo (Strachan's of Royal Deeside, bottled October 31, 1968)

Strachan's in Aboyne still exist to this very day. They also used to bottle whisky as 'George Strachan Ltd', a brand that many whisky collectors do know very well. This Scotch was probably distilled around or even before World War I as it says 'Over 50 Years Old' and as many distilleries used to be closed during World War I due to barley shortages. Colour: gold. Nose: how very interesting and beautiful! This one does not really feel older than the Dymoch etc., it's rather more on brine, dry white wine, cider apples, metal polish and old toolbox (in an old garage, of course). And then we find more dried porcinis, shoe polish, tobacco, wee hints of Worcester sauce and a slightly sour and musty earthiness. A old dunnage warehouse? A great nose again, it's just a little less 'obviously great' than the Dymoch (and gang). Mouth: well in line, as smoky as the Dymoch, maybe even smokier, a little spicier too, more metallic and rather more on sour apples instead of lemons. This is big whisky again and it does remind me of Talisker once again, but Talisker was triple distilled until 1928, so theoretically lighter. Oysters again, seawater, touches of marzipan, soot and earth... Excellent once again, just a little less 'obviously great' than its compadre. Finish: rather long, with more metal, a feeling of iron or even copper coins... Comments: another typical old Highlander. It cannot be a blend, unless there's only 10 or 20% grain. Only the rather big metallic side can be a tad disturbing, that could also be a wee 'taste of glass'.

SGP:564 - 91 points.

(with heartfelt mercis to Max, Angus, Jon, Phil, Simon, and Rowan Atkinson)

November 26, 2013

---

A lousy attempt at bashing a bunch of young Ledaig

There are plenty of young Ledaigs around and I have to admit I've been procrastinating with them, for no specific reasons other than their, well, arr, err, their young age. Probably a mistake, let's down them!

Ledaig 'Mull-a-Mhoine' (56%, Robert Butler Selection, +/-2012)

This one's quite elliptic, there's a website but it doesn't say much. Probably young. Colour: white wine. Nose: new make, slightly rounded off. Raw peat smoke, grains and natural wool. Very narrow and pretty vodka-ish - but then it's one of the best vodkas ever. Reminds me of the young strong ones by Signatory that they had a good ten years ago. I don't think the idea is to add water. Mouth: sweet peat, lemon, icing sugar, ashes and basta. Good body. Full impact young peat, boringly pleasant. Finish: long, smoky, lemony, ashy and now with more brine. Comments: you know the story, young peaters can be very good because the smoke will mask any flaws that would be related to excessive youth. This is a good example, and I'm sorry to say that I enjoyed it quite a lot. Peatier than other Ledaigs.

SGP:447 - 85 points.

Ledaig 2005/2013 (55.2%, Whisky-Fässle, bourbon hogshead)

Colour: white wine. Nose: rather more delicate than the Butler, with less raw peat and rather more vanilla, plums and fresh butter. Easier and gentler, as well as probably more complex. Okay, subtle. Mouth: same. Easy, sweet, with more pears beside the lemons and tangerines, a roaring sweet peat and a astounding cleanliness, especially when we remember the dirty-ish Ledaigs that were made after the glorious early seventies and the clean and zesty late 1990s. Finish: very long, I especially enjoy this feeling of peated pears. It's only moderately briny this time, although I do get anchovies in the aftertaste. Sweet little fish! Comments: how I hate to find such ultra-young whiskies excellent ;-)...

SGP:537 - 87 points.

Ledaig 7 yo 2005/2013 (62.2%, A.D. Rattray, bourbon hogshead, cask #900209, 301 bottles) Potential rocket fuel this time! It seems that the angels turned this baby down. Colour: white wine. Nose: too strong, not much comes through this time. A vague buttery peat, it seems... So, with water: we're on Islay! Hold on... Also the touches of engine oil work well. It's greasier and more petroly than the Fässle. Mouth (neat): oily, big yet not overpowering, and much similar to the Fässle this time. Very zesty. With water: exactly the Fässle. Maybe just a quarter of one single lemon is missing. Finish: very long, zesty, briny, peaty. Rather salted cider apples in the aftertaste. Comments: on par with the other 2005. It's depressing me that I'm finding these very young babies so much to my liking.

SGP:437 - 87 points.

Ledaig 1997/2013 (46%, Gordon & MacPhail Reserve for La Maison du Whisky, refill sherry hogshead, cask #461)

Around sixteen years, that's old! Colour: gold. Nose: this one's completely different, less peaty/smoky, starting more on straight salted anchovies on a butter tartine (or that could be sardines), while it would rather develop on almonds and walnuts. Also something 'textile', such as an old fisherman's old sweater (forgotten on an old boat). Ahem. Mouth: once again, a moderate smokiness but a lot of salt and brine and seashells and salted caramel. Also reminds of some seaweed butter such as the ones the good house of Monsieur Bordier make. Excuse me if that's a little too French ;-). Finish: quite long, always very salty. Some grapefruits too in the aftertaste. Comments: I have to say this baby reminds me of some pre-1974 Caol Ilas by the very same and very excellent bottler, minus the petroly/tarry notes. Excellently drinkable.

SGP:347 - 88 points.

Tobermory/Ledaig 15 yo 1997/2012 (51,1%, Liquid Sun, refill hogshead, 265 bottles)

It's good that someone reminds us that Ledaig is distilled at Tobermory, but it's also true that some old Ledaigs (1970s) could be labelled as 'Tobermory'. Imagine the surprise when uncorking a new bottle... Colour: white wine. Nose: probably the most austere of them all, and the most mineral. Chalk and clay, fabric, a little seaweed, apple peelings... I wouldn't say there's a lot going on but water may help. With water: not quite, it's the same. Mouth (neat): it's so amazing that this was so austere on the nose, and so sweet and fruity on your palate. Lemon pie first, then some kinds of smoked jellybeans, while the peatiness never stops growing. The brine, and litres of it, is making a late arrival. With water: sweet and citrusy, with, hidden in the background, some blood oranges. This is very nice. Finish: fairly long, sweet, with a lingering peatiness that goes towards lapsang souchong. Comments: a very strange one, almost no nose and a wonderfully punchy palate. Muhammad Ali?

SGP:537 (palate) - 85 points.

Ledaig 11 yo 2001/2012 (58.6%, The Stillman's, bourbon hogshead, 335 bottles)

Oops, forgot this younger one but after all, this is no real verticale, is it. Colour: white wine. Nose: same feeling as with the Liquid Sun, the nose is a blocked and only kind of mineral. I love minerality but that's not quite enough. There's also a little antiseptic, mercurochrome... With water: same plus a little raw wool. Or that old sweater. It's really funny that some of these Ledaigs would be so immune to diluting. Mouth (neat): and again, this palate is wonderfully sweet and zesty, with a lot of peat smoke and brine surrounding all that. Also lovely marzipan. Or marzipan-stuffed pears? Does that exist? With water: excellent, same as with the Liquid Sun, it got wonderfully fruity. Lemons and pears, maybe just a little less salt than in the others. Finish: long and saltier again. Brine and lemon juice. Comments: this Mull is not dull! (diving to new lows, S.)

SGP:536 (palate) - 86 points.

Pfff, it's hard to catch these youngish Ledaigs napping, isn't it. So instead of having more of those, maybe we could switch to the early 1970s, what do you think? A young and an old 1972, how does that sound?

Ledaig 11 yo 1972 (40%, Gordon & MacPhail, Connoisseurs Choice, +/-1983)

We've already tried the glorious 10yo (WF 93!) and the 13yo (same!) Young 1972 Ledaigs, just like young Longrows and most probably young Broras (unknown) from the same era may well represent the utter best of what the Highlands could produce as far as Islay-style whiskies were concerned. I'm afraid this is one of the very last occasions to taste one of those... Colour: pale gold. Nose: another world after the big young ones. Sure I had to wait a bit so that this light oldie wouldn't sit in a death seat, but frankly, what an amazing nose. 40% vol. is low but I'm sure this baby would still stand on its feet at 15% vol. What an stupendous mixture of olive oil, various waxes, coal, all kinds of green teas (I especially get high-end wulong but I may be dreaming), fresh walnuts, walnut cake, wool, old white burgundy (let's say it, Montrachet)... The peat is discreet but it's well in the style of the 'old young' peaters by G&M, whether Port Ellen, Caol Ila, Laphroaig, Brora or, yes, Ledaig. Just superb. Mouth: stop it. The tropical fruits are chiming in, old Laphroaig style. Enough! Flipside, this baby's a little weak now, but you may still call the anti-maltoporn brigade. Finish: not extremely long but very ashy. This feeling of having eaten an ashtray. Even more of that in the aftertaste. Comments: these glories can be a little challenging because of their low strengths that make them a little unobvious, but provided you can concentrate a bit, they really deliver big time.

SGP:356 - 93 points.

Ledaig 40 yo 1972/2013 (48.2%, Alambic Classique, oloroso sherry cask, cask #13310, 113 bottles)

These casks are now so rare, it's really fab that specialists Alambic Classique could bottle yet another 1972 this year. Colour: gold. Nose: first, no big sherry. Great, because with these complex distillates, nakedness is an asset. Having said that, there are some walnuts and a feeling of manzanilla, with some sea air, more walnuts, a mustiness, the same green teas that we already found in the 11yo, all that before it tends to become more mineral (graphite, brown coal, clay) and a little more medicinal - without getting Old-Laphroaiggy of course. There are also whiffs of musty old books, which is wonderful. Especially the ink... Mouth: paw! Immediate, evident and implacable (all right, all right). Rather than telling you what's in there, I'll tell you what isn't, for a change. No apparent oak, no red-berry-like wine, no vulgar vanilla, no gamy/mushroomy old-sherry tones, no lemon-brine combo, nor caramel or chocolate and no honey/maple syrup. All the rest is there, but I tend to like the nose (even) better. Finish: that's the weak part, not that it's short, it's just that all that tends to scatter and to become a little 'undefined'. No big deal. Comments: very, very lovely and even brilliant despite the finish, but after having downed quite a few cls of both 1972s, back and forth, I think the 11yo was even superior. It was certainly peatier as well.

SGP:455 - 91 points.

Today:

PSYCH FUNK (?)

. Performer: Dexter Wansel. Track: Life on Mars

(just for fun).

Please

visit

the

website and buy

the

music

...

November 25, 2013

---

Glann ar Mor unpeated and peated

Long time no Glann ar Mor, tell me about a French taster. In case you don't know yet, Glann ar Mor is located in the northern part of Brittany, which is a very 'Celtic' part of France, as Celtic as Ireland or Scotland in any case. Proof: they play the bagpipe. Ahem. Or as Galicia in Spain, by the way, it's a crying shame that no one ever started a Galician whisky distillery yet, but that may happen...

Glann ar Mor 'Taol Esa 2 Gwech 2013' (46%, OB, France, Brittany, 955 bottles)

A vatting of three bourbon casks. Glann ar Mor is unpeated. Are Breton names nicer than Gaelic ones? Well, you decide, both are nicer than Alsatians anyway. Colour: white wine. Nose: a combination of warm bread (baguette!), ginger, vanilla, tinned pineapples, wet earth and sea air. It's very natural, whatever that means, fresh and young, absolutely not oak-doped like other young whiskies can be these days and still close to the barley, so to speak. Mouth: yes! To be honest I did not find the nose extremely impressive - and it's maybe not a nosing whisky in the first place, especially since it's obviously quite young - but it really delivers on the palate. It does not feel youngish at all, it's full, the barrels and the distillate blended together to almost-perfection and there's a big salinity. Remember, in wine salinity is the new minerality. In whisky too? So it's very full, yet not quite oily, on sweet barley, salt (yeah), ripe pears (not pears from youth), salted butter caramel and, once again, tinned pineapples - or rather candied pineapples. Great balance but warning, this goes down too well. Finish: a medium length, with clean, salty, fruity and fresh notes. Superb salty/lemony/melony aftertaste. Comments: I'm very fond of this palate. Great, great work, honestly.

SGP:651 - 88 points.

Taouarc'h (48.5%, OB, France, Brittany, visitor centre exclusive, 224 bottles, 2013)

So this single bourbon cask was distilled at Glann ar Mor, where they also make a peated malt called Kornog, and it is peated, and yet it's not called Kornog, neither is it called Glann ar Mor. Ooh my poor head, I need some kind of remedy... Like this?... Colour: pale gold. Nose: some kind of sweet brine. Maybe pickled fruits, or fig chutney? It's definitely coastal, only mildly smoky, with a barleyness that's still there in the background. In a way, it reminds me of a beer I was very fond of when I was twenty, Pilsen Urquell. Yes I've almost dropped beer since then. Mouth: shall I use the word 'salinity' again? It's one of the saltiest peaters I could taste, no peated Islay is as salty as this. But yet again, not many salted Islays mature near the sea anyway. Other than that, it's a moderately smoky whisky, the closest Scotch malt I could think of to that respect is Ardmore, but this Taouarc'h is more citrusy. Same level of fruitiness, though. Finish: long, full, on 'sweet peat' as we sometimes say (so not tarry, not ashy, not bonfire-y and not medicinal). Comments: I think this is for whisky lovers who are wavering between sweetness and peatiness. It's got both and quality's high yet again.

SGP:646 - 86 points.

Kornog 'Taouarc'h Kentan 13 BC' (46%, OB, France, Brittany, 907 bottles, 2013)

Ooh my head again ;-). In any case, I suppose this baby wasn't distilled in 13 B.C., when, according to Wikipedia, Drusus was governor of Gaul. It's peated. Colour: straw. Nose: the Taouarc'h with more lemons and grapefruits as well as a bigger briny side. More chiselled and a little fatter at the same time. Like this a lot. Mouth: a Sancerre from the best makers and at a higher strength. This is a style I enjoy a lot, very zesty, with an ultra-clean smokiness and bags of lemons and pink grapefruits (the sweeter ones). Yet it's relatively fat again, pretty thick in fact, always great news. Clean, focussed, chiselled, perfect. No signs of youth as such, in a way there's an Amrut effect, meaning that it obviously matured quicker than under northern climates. Finish: long, ultra-clean, lemony, peaty, salty... All good. Comments: I don't know if this superb fatness comes from direct firing of the stills (live flames as they use at Glann ar Mor). That could well be!

SGP:557 - 90 points.

Kornog 'Sant Ivy 2013' (58.6%, OB, France, Brittany)

What an easy name! It's a single cask this time, maybe not quite ex-Ivy League or is it? Colour: straw. Nose: well, careful, this is a bit strong. It seems that it's a little more medicinal than the others but not sure. Water please... With water: a wee tad raw and barleyish, maybe, when compared with the previous one. A feeling of sake, maybe, but otherwise it's all perfect. Well I love good sake. Mouth (neat): an ultra-lemony peat, this seems to be more or less the Taouarc'h Kentan 13 BC (phew) at a higher strength, with more pepper too. Not too sure, this is no jet fuel but it's really strong. With water: the salt comes out, together with lemons and grapefruits. All that is very peated, naturally. A little less oily and fat this time, but of course all that depends on the amount of water you're adding, on the kind of water, on the way you add it and on the waiting time (never taste whisky just after you've added water, always wait for a few minutes! Sipping is fine...) Finish: long and just excellent. Don't I detect touches of pineapples again? That's youth! Comments: another obvious winner, it's just that the superb Taouarc'h Kentan 13 BC (yeah yeah) may have overshadowed it a tiny-wee bit.

SGP:557 - 88 points.

Update: Taouarc'h means peat in Breton.

Today:

CUBAN JAZZ

. Performer: Mongo Santamaria. Track: a superb Afro Blue

around 1985.

Please buy

Mongo Santamaria's

music

...

---


Previous entries (archived)

There's nothing more down there...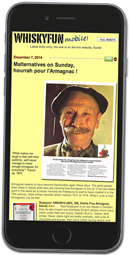 Read Whiskyfun's daily
posts
on your mobile