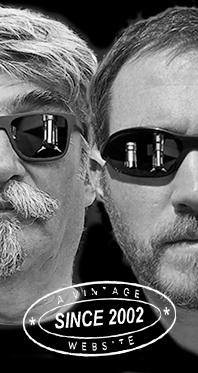 Tasting notes:




Whisky

9,846
Others

567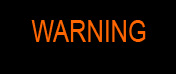 ....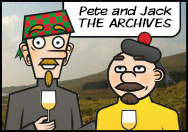 2012
December 1 - 2
November 1 - 2
October 1 - 2
September 1 - 2
August 1 - 2
July 1 - 2
June 1 - 2
May 1 - 2
April 1 - 2
March 1 - 2
February 1 - 2
January 1 - 2


2011
Music Awards
December 1 - 2
November 1 - 2
October 1 - 2
September 1 - 2
August 1 - 2
July 1 - 2
June 1 - 2
May 1 - 2
April 1 - 2
March 1 - 2
February 1 - 2
January 1 - 2


2009
December 1 - 2
November 1 - 2
October 1 - 2
September 1 - 2
August 1 - 2
July 1 - 2
June 1 - 2
May 1 - 2
April 1 - 2
March 1 - 2
February 1 - 2
January 1 - 2





The Magical History
of the Great
Brora Distillery
1969 - 1983




All the linked files (mp3, video, html) are located on free commercial or non-commercial third party websites. Some pictures are taken from these websites, and are believed to be free of rights, as long as no commercial use is intended.

I always try to write about artists who, I believe, deserve wider recognition, and all links to mp3 files are here to show you evidence of that. Please encourage the artists you like, by buying either their CDs or their downloadable 'legal' tracks.

I always add links to the artists' websites - if any - which should help you know more about their works. I also try to add a new link to any hosting website or weblog which helped me discover new music - check the column on the right.

I almost never upload any mp3 file on my own server, except when dealing with artists I personally know, and who gave me due authorizations, or sometimes when I feel a 'national' artist deserves wider recognition. In that case, the files will remain on-line only for a few days.

I do not encourage heavy consumption of alcoholic beverages, nor dangerous motorbike riding. But life is short anyway...

As they say here: 'L'abus d'alcool est dangeureux pour la santé - à consommer avec modération'
Leave feedback


Copyright Serge Valentin,
Nick Morgan,
Kate Kavanagh
2002-2014





July 25, 2014

---

Two Monstrous Mortlach

In my experience Mortlach + sherry can make for a magnificent combination, but sometimes the spirit's trademark sulphury tones can add-up to a sherry cask's sulphur, and generate a rather… bombastic experience. Let's check two of them…

Mortlach 21 yo 1992/2013 (56.7%, Douglas Laing, Director's Cut, sherry butt, cask #10143, 255 bottles) Colour: dark amber. Nose: it is, indeed, a big fat dry sherry, with plenty of roasted chestnuts, dark chocolate, torrefaction and menthol, but with very little, if any, notes of gunpowder. Then thuja wood, wood polish, hot sawdust (fruit tree) and a hint of wood smoke. Very heavy but the dryness works well. With water: more rubber comes out. New rubber boots and a drop of lapsang souchong. Mouth (neat): ultra-heavy, a little acrid, highly concentrated. Did they cook it? Bags and bags of oak spices and bitter chocolate plus a touch of leather and a big… Christmas cake. Dried figs. It's only after two minutes that notes of oranges and lemons manage to come through, and 'lift it'. The bitter spices remain there. With water: this time water works well, bringing out more lemon and maybe quinces. Finish: long, with all the oak's spices in the front. Mint lozenges in the aftertaste. Comments: heavy and bestial. No breakfast dram. SGP:462 - 83 points.

Mortlach 26 yo 1987/2014 (56.8%, Adelphi, refill sherry, cask #3103, 200 bottles)Colour: rich gold. Nose: almost sylphlike after the DL, and yet it's no light dram at all. There's more marmalade, Seville oranges, a touch of coal smoke, this very particular sulphury/inky side, linseed oil… What's really nice is this tropical side that are sometimes to be found in old Mortlach, between pink grapefruits and guavas. Even mangos, actually, but it hasn't got the high topicality (?) of other distilleries. With water: a little rubber coming out yet again. Mortlach + water = sometimes strangeness. Mouth (neat): once again, I should have tried this baby first. Because once again, it's very powerful whisky, but it feels almost light after the very heavy DL. Grapefruits again, curry powder, ginger, nutmeg… A little sour wood. With water: a feeling of peat, bitter oranges, leather, ginger and more nutmeg. And mint. Finish: long, grassier, oakier. Comments: very fine for sure, but I think I enjoyed sister cask #3101 by Adelphi much better (WF 91), I thought everything was better integrated. SGP:462 - 85 points.

July 24, 2014

---

Two Ben Nevis from the 1970s

Old Ben Nevis again, and another opportunity not to get bored. Because there's always something happening in Ben Nevis…

Ben Nevis 43 yo 1970/2014 (44.8%, Eiling Lim)

Colour: gold. Nose: ah yes, this very idiosyncratic mix of rose-scented soap (which isn't exactly soapy) and carbon paper at first nosing, followed by several tropical fruits such as papayas and mangos. After two or three minutes, rather more almonds as well as hints of marshmallows and bubblegum, which is very Ben Nevis indeed. Tree bark. After all these years it's still the distillate that remained quite vocal, but it's true that there isn't the usual heavy sherry that's often to be found in old Ben Nevis. Mouth: very much in keeping with the nose, with more or less the same combo in the arrival, then more green oak but 'in a good way'. Green tea and tobacco, more leaves, chlorophyll, a bit of green curry powder… I also find herbs (tarragon?) as well as notes of barbecued marshmallows. Ever tried that? Finish: medium length. Some oranges coming through now, grapefruits, one or two bitter spices… Comments: surprisingly fresh for a 43 yo malt whisky. I enjoyed this greenish oak, it added freshness. Also funny that the distillate itself never gave up!

SGP:661 - 88 points.

Ben Nevis 17 yo 1977/1995 (59.8%, Cadenhead, Authentic Collection)

An old bottling. Many whiskies in this 'small white label' series used to be quite… brutal! Colour: straw Nose: how close! Same branches and bark, almonds, ink, paraffin… Having said that it's much less fruity than the 1970, without any sweets this time, and with more grass, leaves and even walnut skin. A rather austere and shy Ben Nevis. With water: quite some soap, paraffin, waxed papers, mashed potatoes… Not an easy one – and certainly not a sexy babe. Mouth (neat): very aggressive and very lemony and mentholated. Ultra-sharp and, in that sense, extremely spectacular. But hard to try like that… With water: water works much better on the palate. Lovely ultra-zesty profile, with litres of lime juice. A wee soapiness remains in the background, though, not too nice here. Finish: very long, all on lime juice. I'm sure we could try to make a mega-margarita by mixing this with heavy mezcal. Comments: other 1977s by Cadenhead have been much more to my liking.

SGP:471 - 79 points.

Pete McPeat and Jack Washback

in St Tropez

July 23, 2014

---

A bag of newish Bunnies, part deux

Promises are made to be kept, let's have a few more Bunnies…

Bunnahabhain 6 yo 2007/2013 (51.9%, Liquid Sun, refill hogshead)

Love the rhino on the label. Will this youngster be heavy… or flowery? Colour: white wine. Nose: very young, on barley sugar, apple juice and acacia honey. In the background, raw barley, grass and a little earth. Not unpleasant, I must say. With water: as usual, a little more grass, earth, barley… Mouth (neat): all right, this is good, unadorned malt whisky. Honey cake, malt, roasted nuts, vanilla, cappuccino. Good sweetness. With water: sweet barley water, a little liquorice, vanilla, grass, cake… Perfect balance at a very young age. Finish: of medium length, with a little more earth and a touch of salt. Sunflower seed. Comments: very good, very honest and very easy young malt whisky that goes down (only too) well. Strictly nothing to complain about.

SGP:541 - 82 points.

Bunnahabhain 1997/2014 'The Bosun's Dram' (46%, Wemyss Malts, 380 bottles)

Well I didn't know what a bosun was, you learn every day (it's a boatswain.) Colour: deep gold. Nose: modern official Ardbeg, and I'm not joking. Some antiseptic, raw peat and oak spices, with a good layer of vanilla. Ginger, cinnamon, nutmeg… Seriously, this could really be one of these new yearly NAS bottlings by our beloved Easterkildaltonian distillery. Mouth: a little less Ardbeggian this time, but we stay close. Citrusy oaky spices on raw peat smoke and ashes, with a medicinal feeling in the background and a few drops of brine – or rather seawater. Simple and good. The main difference with Ardbeg is that the mouth feel of this Bunnahabhain is a little less oily, so a little lighter. Finish: medium length. Brine and oyster plus the usual oak spices. Ginger, white pepper and gang. Comments: fun stuff to poor your friends (on Ardbeg Day?) Blind, of course.

SGP:456 - 84 points.

Bunnahabhain 24 yo 1989/2014 (50.8%, The Warehouse Collection, bourbon hogshead, cask #5695, 267 bottles)

This should be unpeated again. Colour: gold. Nose: it's an interesting one, with notes of rhum agricole at first nosing, as well as whiffs of sunflower oil and even engine oil. Or castor oil? There's also more earth than in the others, something very faintly acetic (which is all right) and then lots of roasted nuts, old walnuts, shoe polish, ink, new papers… With water: lovely and perfect. Mushrooms, humus, moss, barley, almonds, wax. Mouth (neat): unusual and excellent, I think. There is some peat, just as in the 1988 by Douglas Laing that we had yesterday. Both malts are actually pretty similar, which is great news to this one. Lime, lemongrass and all that. Great grassiness. With water: indeed. Superb citrusy profile with a peaty backbone. Finish: long, same, clean, fresh, citrusy, salty. Comments: as good as malt whisky can get these days. Superlative Bunnahabhain, as they say.

SGP:453 – 90 points.

Bunnahabhain 26 yo 1987/2014 (49.9%, Maltbarn, sherry butt, 121 bottles)

Martin Diekmann's got some great little bottlings in recent months, let's hope this one will be on par. Why wouldn't it, you may wonder! Colour: pale gold. Nose: it's an oily one again. Not that the texture is oily, it's just that it smells of various oils, between straight engine oil and vegetal ones, sunflower, grape pips, even hazelnut… Behind that, some apples and greengages, a little ink again, waxed papers, grass, cut cactus, a little eucalyptus, some paper smoke, a little camphor… So this is different again, it's incredible how Bunnahabhain can be variable – in a good way. Mouth: bingo, same very high quality as the 1989. Drops of seawater, lemon juice, dried porcinis, tangerine juice, crème de menthe, gentian (Suze), then more brine, tinned sardines, cough syrup… I know the inventory sounds unlikely, but believe me it's all perfectly amalgamated – so to speak. Finish: long, briny, with a mild peatiness and more and more earth. Lemony aftertaste – lemon in the aftertaste is always good news, keeps your palate tidy and ready for a next dram. Comments: the smoke never stopped growing.

SGP:453 - 90 points.

A last one, and why not choose another 1987?

Bunnahabhain 1987/2014 (50.4%, The Whisky Agency, refill hogshead, 210 bottles)

No, seriously, what's this thing on the label? I'm no spoilsport, I'm not prudish, and Whiskyfun's standards are known to be very low, but seriously and just between us, what the hell is that? Colour: gold. Nose: in the same vein (as the previous Bunnies, not as the label, eh!) Bunnahabhain is often overlooked because there are so many around, but these vintages, provided the casks have been carefully selected by passionate whisky enthusiasts, can beat any other whisky. I just love this combination of earthy smoke, sea 'things' and citrus fruits. A wonderful freshness and a perfect complexity. Also hints of sour apples this time, maybe a little beer. Such as these little Lagunitas that really impressed me last time I was in CA. No water needed (probably.) Mouth: perfect perfection. Very fresh, salty, coastal, lemony, cheninesque (I mean, it's got notes of chenin blanc), earthy, peaty, peppery. And I love these notes of lemon honey. Only tiny little flaw in my book, very wee, almost infinitesimal touches of rancid butter. Splitting hairs again. Finish: long, a tad more candied. More brine in the aftertaste. Comments: it's not that I'm feeling particularly lazy today, but I'll go for the same score again. Loses one point because of the microgram of rancid butter.

SGP:562 - 90 points.

July 22, 2014

---

A little bag of newish Bunnies
as they come

Yes that would be Bunnahabhain. There's more and more Bunnahabhain at the indies and we wouldn't, and shouldn't complain, even if they aren't all 'auld acquaintances'. Not talking about the bottlers, of course…

Bn6 (56.9%%, Specialty Drinks, Elements of Islay, 2014)

I've only tried Bn1 so far. Liked it. Colour: gold. Nose: someone must have bought ten packs of Werther's Original and one litre of pure alcohol, and made all that marinate for three months! Caramel, toffee, fudge, butterscotch… you name it. Almost forgot café latte. With water: more of all that. Do Cadbury now own Bunnahabhain? Mouth (neat): rich and fruity, yet again on all things caramely and fudgy, plus plenty of Seville oranges and sultanas. Quite a lot of vanilla too, as if this came from 50% PX and 50% virgin American oak. Probably not. No complex spirit but it's all perfectly balanced. With water: more malt, oranges and honey. We've got closer to the distillate. Finish: of medium length, a tad leafier. Honeydew, oranges, honey sauce, malt. Ovaltine after Werther's. Comments: reminds me of some earlier versions of the official 12, only at a much higher strength. Much to my liking – it also reminds me of some official Glenrothes.

SGP:541 - 86 points.

Bunnahabhain 11 yo 2003/2014 (58.8%, Signatory Vintage for The Bonding Dram, sherry butt, cask #1152, 627 bottles)

To think that the 2003s are already eleven, how time flies… Colour: gold. Nose: styles are extremely similar after Bn6, this one's just got an added earthy touch, and perhaps a little more grass. Same batches? With water: same feeling. Mouth (neat): yet again, it's very similar. Maybe a wee mustardy touch that wasn't there in the Bn6, but other than that, both Bunnies are almost undistinguishable. With water: maybe a little more oranges and honey than in the Bn6 this time. Finish: medium length. Ovaltine, agave syrup, honey, Werther's… Comments: another excellent one that's true to the distillery's official style. Only bigger!

SGP:541 - 86 points.

Bunnahabhain 23 yo 1990/2014 (47.9%, Archives, sherry butt, cask #52, 201 bottles)

Rather first fill this time, or so it seems according to the colour. Colour: dark amber. Nose: starts with a little gunpowder, menthol and cured ham, and would rather develop on soy or even oyster sauce, parsley, hot chocolate, roasted chestnuts and walnut cake. Even pecan pie. Some heavy honey too. Mouth: very rich, rather old-style, it reminds me of many a bottling done by the Italians twenty or thirty years ago. A very heavy, old-style sherry, with plenty of jams (blackberry, raspberry), marmalade, chocolate, coffee, prunes, raisins… A touch of leather and rubber in the background, but nothing too embarrassing. Finish: long, ample, on coffee-schnapps(li). Pipe tobacco. Comments: classic. The slight rubber and the gunpowder work as seasoning agents here. I'm sorry, but it's the same score again in my book.

SGP:651 - 86 points.

Bunnahabhain 24 yo 1990/2014 (50.5%, Asta Morris for Mikhail Selivanov, Russia, cask #AM 035, 204 bottles)

Colour: dark amber. Nose: once again, two similar whiskies are following each other, but this one hasn't got the gunpowder, or very, very little. On the other hand, it's got even more sultanas, as well as a more obvious coastal side. Sea breeze. Globally rounder and sweeter, and pretty cleaner. With water: more tobacco coming out. Amsterdamer pipe tobacco. Wee touches of leather. Mouth (neat): big fat old style sherry again, this time with more limoncello on top of the raisins, prunes, pipe tobacco, jams and chocolate. Easier and sexier. With water: honey and mint lozenges, fudge, orange marmalade, maybe touches of peat… All great. Finish: long, with even more honeydew (fir honey) and raisins. Comments: goes down too well. Heavy sherry without the dirty-ish corners, I'd say.

SGP:651 - 88 points.

Bunnahahbhain 25 yo 1988/2014 (56.9%, Douglas Laing, Director's Cut, hogshead, cask #10272, 104 bottles)

Colour: gold. Nose: it's a rather more 'natural' one after the heavy sherries, probably a little more complex, more elegant and… less immediate. I find an earthiness that wasn't in all the others, notes of roots, raw celeriac, then more vanilla, branches, wee touches of varnish (not that it's solventy of course), something a little medicinal… With water: maybe this baby doesn't swim too well, it becomes a little muddy, in a way. No big deal. Nice notes of hay, though. Farmyard. Mouth (neat): oh this is quite superb! An unexpected peatiness, a lot of spearmint, lemongrass, peppermint, lemon liqueur, grapefruits… A surprise, really, and a great one. Where was the peat in the nose? With water: even more excellent? All citrus, lemony grasses and medicinal fluids and ointments. Finish: long, a notch grassier and oakier, spicier, greener, earthier again. Comments: what a great palate! Very well selected Messrs The Directors.

SGP:453 - 89 points.

We may have more Bunnahabhain tomorrow…

July 21, 2014

---

Two Old Pulteney ex-bourbon

| | |
| --- | --- |
| | Pulteney's often compared with Clynelish. It's true that both distilleries are pretty close to each other (when seen from here, at least), up there in Sutherland, and that both can be rather coastal and mineral, as well as similarly fruity, but what Pulteney seldom has is wax. In my experience it's also a little more… say kind of erratic, depending on the freshness of the wood, but there are also many gems that came out of Pulteney. Let's hope we'll find two of them today… |

Old Pulteney 1997/2011 (45.1%, Gordon & MacPhail, for Aalborg Whisky Laug, 1st fill bourbon barrel, cask #8038702, 208 bottles) Colour: pale gold. Nose: erm, this could be Clynelish indeed, with these notes of citron zests, this very faint smokiness (pinewood smoke?) and the rather obvious minerality. Some gunflints, then just traces of bubblegum, which I often find in Pulteney. Becomes much drier after a few minutes, with some 'good' cardboard and many dry herbs. Parsley, for example. Mouth: this is pretty perfect, I have to say, and indeed it could be Clynelish. Big and vibrant, as they say, and yet fresh and nervous, as they also say. There's citrus but also touches of strawberries, which you'll never find in Clynelish, more wax than expected (I like to prove myself wrong, happens quite often I'm afraid), and then touches of ripe peaches and brine. Finish: long, rather drier, and quite peppery. Must be the first fill barrel. The peaches are back in the aftertaste, rather as preserved ones. Comments: it's a big and very good Pulteney in my opinion. Tastes stronger than just 45% vol. SGP:552 - 86 points.

Old Pulteney 33 yo 1980/2013 (45.8%, Malts of Scotland, Angel's Choice, bourbon barrel, cask #MoS13066, 98 halves) Colour: pale gold. Nose: starts very bizarre, with notes of Swiss cheese and white balsamic vinegar, before some much nicer notes of damp earth and eucalyptus are starting to arise, together with marzipan and plain fresh almonds. Also a little liquorice roots, and then touches of brine and just seawater. Remains pretty unusual, I'm very curious about the palate…Mouth: this is different. First, it's cleaner. Second, it's very peppery and 'cinnamony'. And third, it's very complex, despite the rather heavy oak. A lot of tea, both black and green, grass, notes of carrot cake, perhaps, a lot of cocoa powder, funny notes of gritty calvados, apple peelings… You have to like oak, because this old baby's got quite a lot, but if you do you'll like this one. Finish: quite long, with some oak, chlorophyll and unsweetened green tea. Comments: you really feel the oak. Some aspects are really lovely, though, but this time the 17 extra-years (wrt the G&M) did not add any extra-points in my book. SGP:371 - 86 points.

July 20, 2014

---

The Sunday Quest for Malternatives,
yet another bag-o-rum

We aren't done yet with our rums, there are so many yet to taste! I'm planning to write a little piece about 'rums for malt lovers' in a few months – but haven't I already told you that? Today we'll try a few newish ones, all selected completely at random. Let's only hope we won't stumble across some sugary junk!

Westerhall Estate 'Superb Light Rum' (40%, OB, Grenada, +/-2013)

Even the owners are claiming that this baby's made 'particularly for cocktails and enjoyment with mixers.' But we'll try it neat! Colour: light gold. Nose: it's light and rather grassy indeed, without much aroma. Hello? I've had some indy Westerhall (Sansibar, Plantation) that was much more talkative. Almost no nose. Mouth: light, sweet, a little sugary. Un-distinctive. Some candy sugar, touches of overripe bananas, traces of molasses and hints of sugarcane. Not for sipping indeed, unless you're very busy doing something else. Finish: yes there is one, but it's… indefinite. Comments: forgettable. I like the fact that it's not too sugar-doped, but other than that, there… Hey, what was I talking about?

SGP:530 - 60 points.

St Nicholas Abbey 10 yo (40%, OB, Barbados, +/-2012)

Ah, this should be different! I liked the 15 yo very much (WF 86) despite the heavy price tag, so this should b quite to my liking as well. Colour: light gold. Nose: another world, another galaxy! It's a grassier one, more on our beloved olives and smoked fish, with a good dose of tar and petrol and a straight agricole side. Smoky molasses and tapenade, 50/50. Mouth: maybe a notch lightish for a few seconds, but then it really delivers, with sweet notes of 'active American oak', tinned apricots, olive oil and then blood oranges. There's also something mildly agavey, a welcome brine, more olives… It's the style of rum that I enjoy. A kind of medium-bodied Caroni, if you like. Finish: medium length. Same flavours, with more salt(iness) in the aftertaste. Pepper, oranges. Comments: good, good rum and a genuine malternative. Now, it's almost more expensive than 10 years old malt whisky, so…

SGP:552 - 85 points.

Ocean's Rum 1997 'Atlantic Edition' (43%, OB, blended rum, +/-2013)

This one's made out of rum from various origins, including Martinique, Jamaica and Demerara. 1997 does NOT seem to be the vintage. That's what's funny with rum, in most countries you can do whatever you like and nobody will start bothering you. Colour: reddish amber. Nose: classic sweet and honeyed nose, with a good fruitiness. Bananas flambéed, papayas, liquorice allsorts and a little coffee liqueur. Seems to be on the sweet side but you never know… Mouth: yes, it's sweet one, too sweet for my taste but not unbalanced and certainly not cloying. Notes of grenadine, coconut liqueur, honey, Demerara sugar, raisins and sweet liquorice (rolls!) Not ugly. Finish: rather long, with some oak coming through, together with some white pepper and cinnamon. Comments: again, not my style but I find this honest and loyal. Right, maybe not €75-loyal.

SGP:731 - 75 points

(one point per Euro, isn't that smart?).

Haitian Rum 7 yo (46%, Cadenhead's Green Label, +/-2011)

The label doesn't say so but I've seen that this one was distilled in 2004. It should be Barbancourt, thus rhum agricole. Colour: very pale white wine. Nose: it's got agricole's grassiness and earthiness indeed, and it's great to be able to nose one that hasn't got any oak, or so little… There's an obvious smoke, rather around a garden bonfire with a lot of hay, then more grass, sugarcane… It's only after a good five minutes that a bright fruitiness comes out, with melons and peaches, as well as a few strawberries. Hold on, that would rather be wild strawberries! Mouth: great arrival, petroly and olive-y as it should be, but then notes of burnt sugar take control, which isn't quite as nice. Sweets, orange drops… It's good, but it's a little indistinct. Too young? Love the olives in the background, though. Finish: a little short but the olives came to the front. We won't complain. Comments: much to my liking despite a few weaker spots. You feel 'nature'.

SGP:572 - 80 points.

Bellevue 1998/2013 (46%, L'Esprit, Guadeloupe, cask #BB 44, 201 bottles)

Oh, Bellevue! We've already tried quite a bunch of pretty great ones. Colour: amber. Nose: yeah! It's big, fat, oily, greasy, very aromatic rhum. This one's not totally petroly and/or grassy, it's actually rather fruitier than others, but it's got this fatness that works so well. As for the fruits, I find tinned litchis and papayas, touches of mangos and very lovely hints of pink grapefruits. Perfect balance. Mouth: maybe a notch too sweet for me, and too syrupy, but other than that it all goes very well, with plenty of fresh fruits (passion fruits this time, maybe blueberries…), some welcome camphor, liquorice and eucalyptus (that is right, cough medicine), and lastly, just straight sugar cane. Finish: very long, which is a trademark feature. Olives and liquorice in the aftertaste, what's not to like? Comments: big rhum for big boys and clever girls. Yes I am a little tired.

SGP:652 - 87 points.

All right, a last one (is it wise?)

Diamond 10 yo 2003/2013 (54.4%, Duncan Taylor, Guyana, cask #72, 324 bottles)

Ha! As you may very well know, Diamond in Georgetown is the daughter of all deceased Demerara distilleries. Since they have several of their old stills, when someone asks me which distillery I'd love to visit, I always answer 'Diamond'. One day, one day… Colour: straw. Nose: great, it's not the lighter style! Nor is it the kind of lumpish/sweaty/sweetish El-Dorado style. You may well call this 'dundery', but it's exactly the 'Old Ardbeg of rum' kind of style. Are you following me? Pitch, tarmac, diesel oil, crushed black olives, clay, bandages, gherkin brine and all that. No water needed. Mouth (neat): oh this is highly unusual. Salt, lavender and violet sweets, juniper berries, green olives, black olives, red olives, pink olives (that'll do, S.), pepperoni, tar liqueur, shoe polish (yes), marmalade, pinesap, tamarind… This is just great. I'm not sure the other Diamonds I could taste have been this good. I mean, to my liking. Finish: eternal. Don't expect to be able to taste the latest Glenkinchie after this muscular baby. Or any other spirit. Comments: very spectacular young rum, very well selected Duncan Taylor! A metaspirit that would beat many a Scotch. Or rum. Ardbeg guys, try to find a bottle of this, it's truly exceptional!

SGP:573 - 91 points.

… Wait, unless we also try this possible marvel that's just in!...

Finest Jamaican Rum 9 yo (86.8 US proof, Averys for Corti Brothers, USA, Wedderburn and Vale Royal, +/-1975)

Very rare stuff! Most probably distilled in the 1960s, this Jamaican is a heavy 'dunder-driven' molasses-based Vale Royal rum of the Wedderburn style, that is to say, as I understand it, rum that underwent a very long fermentation and was pot-distilled. As you may know, 86.8 US proof means around 43.4% vol. Colour: pale gold. Nose: pah-pah-pah-pah… This baby's got the very same kind of mega-olivy, hyper-petroly and super-earthy profile as the Diamond. A lot of brine too, liquorice, rotting hay and vegetables (a little manure), gherkins, samphires in salt, clay, Cuban cigars… Amazing, totally amazing! Mouth: it's saltier than any malt, including the saltiest coastal ones. So heavy salt and brine, black olives, salted anchovies, tar and salted liquorice… It's a bit drier than the Diamond, with less fruits, but it's also even more massive, despite the lower strength. Loads and loads of salmiak, with a mouth feel that's just perfect. Another old Ardbeg of rum, I'm saying this because modern Ardbeg is much lighter spirit in my experience. Finish: very long, all on olives and salmiak. Very salty aftertaste. Comments: what a big fat bastard! Takes no prisoners, no wonder this style of rum used to be mixed with very light ones or even industrial alcohol to produce more 'commercial' tipples. Same extremely high quality as Duncan Taylor's stunning Diamond, so same score in my book. Hurray!

SGP:373 - 91 points.

No, no, no other rum could 'climb over' that one!
(Grazzie mille, Diego!)

Check the index of all rums I've tasted so far

July 18, 2014

---

A first, tasting Ailsa Bay.
Unless this is not Ailsa Bay.

Don't we all love mysteries? Well the excellent German bottlers Malts of Scotland are full of mysteries these days, as several among their new bottlings are carrying fantasy names, usually places or monuments that are located not too far from the distilleries. That means that while we do not have the distilleries' names, we may sometimes find the key to the riddle, so to speak. All you need is Google Maps and/or a bit of logic. This one should make for a great example…

Images of Ayrshire 'Dalrymple Bridge' (68.3%, Malts of Scotland, single cask Scotch, 328 bottles, 2014)

The name 'Ayrshire' or 'Rare Ayrshire' is often used for undisclosed Ladyburn. Now 68.3% vol. should mean that the whisky's very young, so it just couldn't be Ladyburn, which stopped working in 1975. Or they would have used ages and/or vintages. But 'Dalrymple' rings a bell… it's the trading name of teaspooned Ailsa Bay, isn't it? And this is not labelled as a single malt, so it could well be blended malt indeed (on the papers). And the owners William Grant do not let other bottlers use their distillery names indeed… And Ailsa Bay is, indeed, located in Ayrshire. So, this just cannot not be Ailsa Bay, Watson! And it does not smell of grain, so it couldn't be Girvan. A real first for me, I've never tasted Ailsa Bay before.

Colour: deep gold. Very active wood, it seems. Nose: it's obviously young, but Ailsa Bay cannot be old as they started distilling in 2007. It's very powerful, but I do get a rather lovely mix of raisins, sweet wine and brandy, plus orange cake and, say millionaire shortbread. Right, Mars bar. You have to be careful at this strength… With water: blimey, you really need to add a lot of water to smooth it up. But then it becomes even more beautiful, raisiny, Sauternes-like, with also a rather Indian kind of spice mix. Sweet curry, sweet mustard. Great nose, maybe thanks to a great cask. Mouth (neat): how powerful! And yet you can feel a bourbony sweetness, some honey, a biting oak and large bag of raisins. Cough, cough… Burns your throat. With water: works! Litres of orange blossom water, also Seville oranges, sweet curry, raisins again and again, sweet wine, a little mint and liquorice, pepper… All very, very good. Finish: long, clean, on more or less the same notes. Good clean aftertaste, on speculoos and oranges, I'd say. Comments: my only disappointment comes from the fact that the cask was great – and greatly active. That means that this baby's anything but distillate-driven, so I just couldn't tell you much about Ailsa Bay's original character, even if it seems that they're actually producing various styles of malt whisky over there. But what a great Lowlander! SGP:651 - 88 points.

No sparring-partner today, I could not find another Ailsa Bay – no wonder – and I haven't got any sample of Roseisle in my library either!

July 17, 2014

---

Two evident Glen Garioch from earlier vintages

Recent vintages aren't hard to find at many indies – and at the owners of course – but older ones are becoming very scarce.

Glen Garioch 24 yo 1989/2014 (51.4%, The Whisky Agency, The Perfect Dram, refill hogshead) Isn't it great that the Agency could find a pre-1990 cask! Colour: white wine. Nose: well, it seems that there were still echoes of GG's former mineraly, if not smokiness. In truth, this is very mineral and quite medicinal, and notes of chalk, aspirin tablets, limestone, eucalyptus and antiseptic do abound. After a few minutes, we find more apple and walnut peelings, as well as an unusual 'grassy' smokiness. Garden bonfire, broken branches… The whole is quite austere, but it's got some great character. With water: some dry barley and other grains come out. Smoky porridge, perhaps? Mouth (neat): all the fruits that weren't in the nose are here, together with a perfect old-style-ness that would involve raw wool, chalk, ink, grass, even vegetables, walnuts… The medicinal side is there too, but it's rather more discreet. With water: yes, grapefruits and limes. Great bottle. Finish: relatively long and beautifully lifted by citrus and lemony grasses. Not just lemongrass! Comments: I simply say 'kudos'. Not a style/expression of Glen Garioch that's easy to find as a new bottling anywhere else these days. Right up my alley! SGP:463 - 91 points.

Glen Garioch 21 yo 1973 (43%, OB, +/-1994) I've tried bunches of 1968s, 1971s and 1975s, but only one from 1973, a glory by Slim Cowell (WF 91). Colour: gold. Nose: same style, just more emphatic, more obvious, and probably even more complex. Iron, chalk, eucalyptus tea, flints, antiseptic and, let's cut this short, 4,231,215 tinier aromas. The golden age of Glen Garioch, in line with those of the 1965-1971 era. What else can I say? Mouth: awe and genuflexion. Fat and crystalline at the same time, and kind of metaniocal. It's thousands and yet it's one. God? Please call the anti-maltoporn brigade, and quick! Finish: how could an old bottle – I mean, the whisky inside - at 43% vol. be so long? Comments: seriously, this is absolutely massive malt whisky. It's got everything, from peat/phenols to fruits/honeys and from spices to herbs and flowers, and yet it's the compactness that's really striking. It's One. Who stole the recipe? SGP:664 - 94 points.

July 16, 2014

---

Two NAS Ardbeg including that one
All right all right all right, now that the Brazilian World Cup is over, I thought we could as well have a go at Ardbeg's Auriverdes. WF might well be the last 'blog' to try this newish baby, but indeed I had thought there was absolutely no rush. And first, another NAS for due comparison… (that's the problem with NAS, it's hard to build proper tasting flights – either horizontal or vertical ones.)

Images of Islay 'Eilean a Chuirn Lighthouse' (53.2%, Malts of Scotland, 227 bottles) The name of the distillery is nowhere to be found on the label, but the Eilean a Chuirn Lighthouse is located not too far from the Kildalton Cross, which might (I insist, might) suggest this could be Ardbeg indeed. Colour: white wine. Nose: very sharp, very grassy and ultra-austere at first nosing. We're very close to young Ardbeg ex-refill indeed. After two or three minutes, it's the earth that comes out, together with mercurochrome and rather more fruits, but I would not call this a fruity nose. Bandages, green apples, rhubarb peel. With water: more soaked barley and bread, while the peat remains pretty shy. No peat monster for sure. Also brine. Mouth (neat): big, very grassy, ashy and peppery in the arrival. A sooty side, something accordingly acrid, then grapefruit skin. Always rather austere, but it really does the job. With water: simple but quite lovely. Pepper and ashes, smoked barley, touches of orange cake. Finish: medium length. Salt, pepper, grapefruits, one cranberry. More straight smokiness in the aftertaste. Comments: much to my liking despite its narrowness. We're very far from the 1970s, but this baby sure does the job. SGP:366 - 85 points.

Ardbeg 'Auriverdes' (49.9%, OB, 2014) Or ambush marketing in malt whisky! Let's only hope this baby will perform better than the team that was wearing similar colours during the World Cup. Colour: pale gold. Nose: same whisky, with an extra-layer of oak. I have to say this seems to work pretty well, because it's not coconutty oak, rather burnt chips and even charcoal. Also wee notes of ripe bananas. Other than that, same combination of mercurochrome, bandages, grass and earth. With water: some marzipan coming out, café latte, custard… And not much peat either. Mouth (neat): definitely 'modern', in the sense that the first flavour you get is that of new oak. Grated nutmeg, ginger, strong black tea, cinnamon. And then more new-Ardbeg goodness, lemon, salt, pepper, ashes, grapefruits… Especially the saltiness is very obvious – and pleasant. With water: same. The oak's spiciness is in the front row. Finish: quite long, on oaky pepper and ashes. Salt and lemon in the aftertaste. An alternative to a tequila shot? Comments: indeed I do prefer less new oak in my whisky, but I would not cry with the wolves. I find this Auriverdes very all right – although I like the regular Ten better. SGP:456 - 84 points.

Pete McPeat and Jack Washback

in St Tropez

Today:

JAZZ

. Performer: Joe McPhee. Track: a very crazy Oleo.

Please

visit

Joe McPhee's

website and buy

his

music

...

July 15, 2014

---

Two very surprising Glenallachie

I don't know why, I've always had a soft spot for Glenallachie. I haven't got any explanations, I do not find the whisky always stellar, and I've never visited the distillery. Mysteries mysteries…

Glenallachie 15 yo 1999/2014 (57.3%, dailydram.de, Limburg Dramclub, sherry) I think this one comes from the Whisky Agency's Mannschaft. Ah, the Mannschaft… Colour: gold. Nose: a raisin cake, really. Or a kugelhopf just out of the oven, with a little kirsch and Grand-Marnier. Or rum baba? It's quite simple but there isn't anything missing in the picture, you just have to enjoy raisins as much as I do. With water: superb! Notes of cigarette tobacco, old leather jacket, candied oranges, horse saddle… I really love this. Mouth (neat): just excellent. Again, it's simple malt whisky when undiluted, but these raisins are just perfect. So is the triple-sec that must have been poured into the cask! Oh and the praline-filled milk chocolate. With water: as good as a middle-aged Speysider can get. Now I remember why I've always had a soft spot for little Glenallachie (not that the distillery's small, mind you.) Finish: medium length. The leathery side comes out more, but the raisins never gave up. Bitter oranges in the aftertaste. Comments: simply 'wow'. Only the finish was a little less, say immediately stellar. Maybe just a tad too bitter? SGP:561 - 89 points.

Glenallachie 39 yo 1973/2012 (45.2%, Malts of Scotland, Angel's Choice, bourbon hogshead, cask #MoS 12045, 86 halves) Colour: gold. Nose: oh this is funny! Starts with massive doses of chlorophyll (chewing-gum), whiffs of brand new rubber boots, tiger balm and grapefruits. Perfect. Goes on rather on mead and honeydew, hints of mashed pumpkins, perhaps, then roasted chestnuts and quite some wet chalk and clay, which is something that I personally enjoy. So yeah, an unusual oldie that would make you shout 'vive la difference!' After ten minutes, touches of antiseptic come out, and it becomes more and more medicinal. Mouth: oooh yes! Very medicinal, with camphor again, cough syrup, drops of myrtle liqueur (not writing that because I'm about to fly to Corsica, I swear), then wonderful notes of citrons and lemons, pink grapefruits, cough lozenges, a funny old French sweet called 'Pastille Vichy', and lastly, drops of limoncello and maraschino. Very Italian, this bambino. Perfect mouth feel, the strength is perfect. Finish: rather long, between medicinal and citrus notes. Comments: there's something 'old Islay' to this. SGP:551 - 91 points.

---


Previous entries (archived)

There's nothing more down there...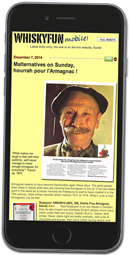 Read Whiskyfun's daily
posts
on your mobile