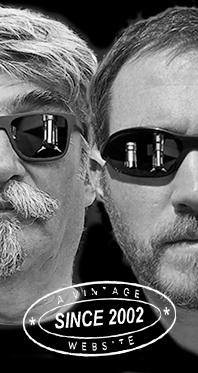 Tasting notes:




Whiskies

10,331
Others

667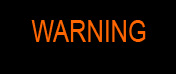 ....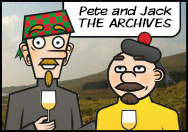 2015
January 1

2014
Music Awards
December 1 - 2
November 1 - 2
October 1 - 2
September 1- 2
August 1 - 2
July 1- 2
June 1- 2
May 1 - 2
April 1 - 2
March 1 - 2
February 1 - 2
January 1 - 2

2012
December 1 - 2
November 1 - 2
October 1 - 2
September 1 - 2
August 1 - 2
July 1 - 2
June 1 - 2
May 1 - 2
April 1 - 2
March 1 - 2
February 1 - 2
January 1 - 2


2011
Music Awards
December 1 - 2
November 1 - 2
October 1 - 2
September 1 - 2
August 1 - 2
July 1 - 2
June 1 - 2
May 1 - 2
April 1 - 2
March 1 - 2
February 1 - 2
January 1 - 2


2009
December 1 - 2
November 1 - 2
October 1 - 2
September 1 - 2
August 1 - 2
July 1 - 2
June 1 - 2
May 1 - 2
April 1 - 2
March 1 - 2
February 1 - 2
January 1 - 2





The Magical History
of the Great
Brora Distillery
1969 - 1983




All the linked files (mp3, video, html) are located on free commercial or non-commercial third party websites. Some pictures are taken from these websites, and are believed to be free of rights, as long as no commercial use is intended.

I always try to write about artists who, I believe, deserve wider recognition, and all links to mp3 files are here to show you evidence of that. Please encourage the artists you like, by buying either their CDs or their downloadable 'legal' tracks.

I always add links to the artists' websites - if any - which should help you know more about their works. I also try to add a new link to any hosting website or weblog which helped me discover new music - check the column on the right.

I almost never upload any mp3 file on my own server, except when dealing with artists I personally know, and who gave me due authorizations, or sometimes when I feel a 'national' artist deserves wider recognition. In that case, the files will remain on-line only for a few days.

I do not encourage heavy consumption of alcoholic beverages, nor dangerous motorbike riding. But life is short anyway...

As they say here: 'L'abus d'alcool est dangeureux pour la santé - à consommer avec modération'
Leave feedback


Copyright Serge Valentin,
Nick Morgan,
Kate Kavanagh
2002-2015





January 31, 2015

---

Off to...
The Islay Odyssey 2015!
Bringing rare whiskies back to their birthplace and cracking them open.


I'll try to keep Whiskyfun's distinguished readers updated, hopefully not sporadically. You may expect some insanely rare whiskies. No, rarer than that. You may also expect a bit of malty chaos.

Pete McPeat and Jack Washback

January 30, 2015

---

A trio of very different Mortlach

Shall we expect some meat? Suet? Soot? Matches? Coal?

Mortlach 14 yo 1999/2013 (46%, Orcines, cask #3803)

Colour: white wine. Nose: very interesting, this very naked Mortlach really displays the trademark notes of smoked apples, sooty oils, unlit sulphur candles and cut grass. It's an austere one, very true to the distillate, and I especially enjoy the growing fruitiness after a few minutes. Still apples, also gooseberries and greengages. A walk in an orchard while the fruits aren't all completely ripe. Mouth: same feeling, except that the green fruits strike first. Yet the austere side is soon to come to the front, with a smoky grassiness, grape pips oil, green tea and then very tart grapefruits. A very grassy sauvignon blanc. Good body, the strength is perfect. Finish: long and chiselled, on grass, cider apples and always this wee sootiness. Comments: sharp, in a very good way. Maybe rather for whisky exegetes?

SGP:462 – 86 points.

Mortlach 'Spirit of Speyside Festival' (48%, OB, 2013)

A pre-square range official NAS Mortlach. Colour: full gold. Nose: the Orcines, only with much more cask influence. That would include vanilla, raisins, and dried coconut. What comes after that is very Mortlach, with matches, a meaty side that wasn't quite in the 1999, some soot, some charcoal and some earth. A funny hint of volcanic scoria (perhaps). Some mad souls would even find a little botrytis in this – well, I certainly do. Mouth: there are ideas of the Flora and Fauna bottling, with a feeling of coal and roasted chestnuts, of earth, of roasted malt, of Guinness… Some bitter oranges join in the dancing after one minute, together with some sharp cinnamon mints and bitter herbs. I find quite some ginger too, as well as something drying (tea tannins, cinnamon). Finish: long, a little acrid and tannic, with unexpected raspberries. Or raspberry jelly, and maybe cranberries. That's fun. Peppery aftertaste. Comments: excellent, I just find the wood's influence a little heavy, with this tannic side.

SGP:461 - 84 points.

Mortlach 20 yo 1994/2015 (53.4%, Cadenhead, small batch)

A January 2015 rotation. Colour: white wine. Nose: it's rather a sappy one this time. A bit of varnish, then moss, pine needles and humus, then almonds. I guess if you mix all that you could make some perfect marzipan, couldn't you. Or 'a walk in the forest after the rain'. Love that, these new Cadenheads are boringly interesting and embarrassingly great again (I think you need holidays, S.) With water: a pile of old planks that have been sitting there for years under heavy rain, snow and sunshine. Yes that would include mushrooms. Mouth (neat): hell and putrefaction! This is quintessential Mortlach, aggressive, sharp, dominating, and even tricky. Lemons, not-too-ripe kumquats (there!), piny stuff (old dry herbal liqueurs)… And all that. Whisky that bites you – and yet you love it. With water: oh, mint, lemons and almonds! Finish: long, precise, zesty, now perfectly clean. Ideal timing. Comments: I just hope Cadenhead aren't bottling all their best casks these days ;-). What would be left in the future? But they give you faith in Scotch.

SGP:561 - 91 points.

January 29, 2015

---

Shall we find plenty of Tormory fruits?...

Tormore 16 yo (48%, OB, batch #B1905, 2014) I quite liked 2013's batch #B1307 (WF 83). Colour: gold. Nose: it is very 'official', as opposed to 'indie'. Indeed the owners tend to add more oak these days in my modest experience, to the point where you could really tell whether one whisky's official or not just by nosing it. Not talking about Tormore as such, they're almost all doing that. For example, this one has a lot of Ovaltine and chicory, bags of roasted pecans and peanuts, and quite a lot of coffee. In short, roasted malt galore. Mouth: once again the wood's in the front, with some pepper, some cinnamon, more roasted nuts and quite a lot of toasted bread. Behind that, marmalade and cherries, coated with more spices, especially cloves and cumin. Finish: long and very malty/spicy. Some kind of spiced coffee that the mad people at Nespresso would have just invented. Comments: well made, for sure, you just have to enjoy stout beer and Ovaltine. And brownies. The whole's much more coffee-ish than earlier ueberfruity official Tormores (ah the old 10 white label!) Score unchanged.

SGP:451 – 83 points.

Tormore 18 yo 1995/2013 (47.6%, Pearls of Scotland, 294 bottles)

Colour: pale gold. Nose: oh lovely… Some almond oil, cut flowers, freshly made marzipan, sunflower oil, wee oranges (bergamots – not kumquats), a bit of fresh oak, roots, a little clay, fresh barley… It's all pretty subtle, some would call this 'feminine', but others would argue that that's a sexist remark. Mouth: a little more disjointed, but it's got sparks of greatness. Oranges, butter cream, a little mead (with a bittersweet side)… There's also a little sour wood, which is a little less great. Finish: medium. Loses it a bit, with more sweet and sour notes and a little sawdust. Comments: very fine. I really loved the nose that was pretty femin… oh forget.

SGP:441 - 82 points.

Tormore 1995/2014 (56.1%, Chapter 7, bourbon hogshead, cask #20159, 211 bottles)

Colour: white wine. Nose: it's a narrower one, more compact, not less pleasant, very floral Tormore. Daisies (very light), apple peelings, orange peel, grass, cherry juice… You've got more or less the same lightness as in the other 1995. With water: same light fruit juice with drops of almond oil, and always this floral side. Maybe roses this time? Mouth (neat): excellently fruity, Speyside style. Sweet fruits, bonbons, apple juice, cherries again… Uncomplicated and all very fine. With water: same, just a notch grassier. Some easy, rather delicate fruit juice. Finish: medium, clean, fruity, easy. Do you like cherries? Comments: our winner. I enjoy this delicately fruity, very clean style.

SGP:541 - 85 points.

January 28, 2015

---

Little duels, Blair Athol Duthie vs. LMDW

Blair Athol isn't a big spirit, that's why we'll resort to heavy bottlers today ;-). We'll have the (even) heavier one as #2 not to take any chances.

Blair Atholl 1967/1983 (92 US Proof, Duthie for Narsai's and Corti Brothers, Pellegrini Imports, USA)

Many people used to write Athol Atholl, this is just another example. But anyway, let's hope this baby will just be another magical old Corti. Colour: straw. Nose: this is the most honeyed honeyed thing we've ever come across. When I mean honey, I'm not meaning ooh-ah commercial honey, rather authentic acacia honey, very subtle, gentle, delicate and floral. And indeed, whiffs of a large bouquet do come out after a short while, roses, lilac and such. This really noses like 'a florist shop on Sunday morning'. Whatever. Mouth: it's got this wee metallic side that's to be found in many old Cadenhead's (black dumpies), and then it rather goes astray, I'd say. I believe it's the first whisky in this series that I do not like too much. It's getting bitter, too grassy, rather sour as well (cheap industrial lemon juice). Things do improve as the lemony side comes to the front, but that's all. Finish: quite long, a little astringent. Comments: a really fantabulous nose, but an arrival that's not very difficult, in my opinion, and a middle and a finish that are 'good, not great'. Very hard to score.

SGP:362 - 80 points.

Blair Athol 25 yo 1988/2014 (59.5%, La Maison du Whisky, Artist #4, first fill sherry, cask #7494, 567 bottles)

One L, bravo! Colour: full gold. Nose: this one too is very floral, and despite the fact that it's first fill sherry, it's not a sherry monster at all. Some wonderful notes of IPA beer (Lagunitas, really – but I have to confess I know five IPAs, max), so probably fruity hops, then rather oranges, almond oil, orange blossom and a little fresh butter. The sherry tends to make it a little sour and 'cellary', but that really works. Old wine barrel. With water: becomes a little muddy, but that's far from being a fault in this context. Also mead. Mouth (neat): really punchy, a tad metallic at first, then we have the same notes of fruity hoppy beer, perhaps strawberry drops, some mead again for sure, then overripe mirabelles that are about to ferment. Hard to know what's from the sherry or not, but I enjoy this rather 'antique' style. With water: malt and oranges come out. And more Lagunitas ;-). Finish: medium, a little grassier. Orange juice, a few herbs, quinine… Wouldn't that be Campari-orange? Comments: I find this excellent. We're far from 'wham-bam' whiskies seen elsewhere, and it might be a little introspective, but it's worth your time.

SGP:451 - 87 points.

Pete McPeat and Jack Washback

Today:

JAZZ

. Performer: Pepper Adams's amazing baritone sax. Track: Now In Our Lives.

One of his last recordings. Please

visit

his

website and buy

his

music

...

January 27, 2015

---

Los not so cheapos, Aldi vs. Lidl

I like to do that from time to time, retrieving cheap whiskies from cheap places, in order to try to massage the lower end of the 100-points-scale and to contradict our dear friends who are sometimes complaining about the fact that I'm only tasting rare and/or unobtainable and/or very expensive whiskies. Which, by the way, I don't think is true, I'm also trying to taste as many entry-level whiskies as possible, it's just that I'm no masochist. And remember, Whiskyfun's only a personal tasting diary; it's no buying guide. I have no obligations whatsoever. Freedom! Ahem…

Queen Margot (40%, Lidl, blended Scotch, +/-2014)

This little baby queen is bottled for Lidl by a Glaswegian company named Wallace & Young Distillers. The price in France for 70cl is 10.69€, which isn't that cheap, is it? Having said that the prices for an average blend from a large brand, such as Johnnie Walker Red, lies around 14 to 15€ in France these days. Colour: yellow gold. It's not totally ridden with caramel. Nose: we have these usual notes of toasted oak and bread, stout (Guinness) and overripe apples, plus something slightly molassy. Corn syrup. A bit of dusty cardboard as well, but the whole isn't totally off-putting. Mouth: honestly, this is honest. Good sweetness, a feeling of sweet caramel, Mars bar, Ovaltine, applejack… Sure it's very light but I can't find any foul notes. Finish: short, but rather clean, without any burnt notes. More caramel, malt and apples. Comments: sure this baby isn't for die-hard malt maniacs, neither was it meant to be a sipper, but I really find it honest. Now, yes, it is boring.

SGP:431 - 72 points.

Clan Murdoch 8 yo (40%, Aldi, blended Scotch, +/-2014)

this one retails for 12.99€ a bottle at Aldi, which is relatively cheap given that it comes with an age statement. It comes from some French bottlers called Compagnie Vinicole de Bourgogne aka CVB, but that doesn't mean they've been using ex-Romanée-Conti casks ;-). Colour: pale gold (hurray!) Nose: this is quite nice! It's fresh, it's fruity, it doesn't have much burnt wood, and it's even got notes of malted barley. Tarte tatin, apple pie, a drop of maple syrup, then a little custard, oranges, a touch of caraway… In short, nothing to complain about so far. Well done CVB and Aldi. Mouth: it is a little sour and 'burnt' this time, cardboardy as well, rather flat. A pity because you can feel a pleasant fruitiness underneath, apples, oranges… Finish: short, quite cardboardy, but I find the spices rather pleasant. Cinnamon and pepper. Comments: loyal stuff. Not a sipper either, but yeah, it's relatively honest.

SGP:331 - 68 points.

Glen Orchy 5 yo (40%, Lidl, blended malt Scotch, +/-2014)

Yes this is plain Scotch malt. This baby retails for 13.79€, which I find very okay. Just like Lidl's Queen Margot, it's been bottled in Scotland by Wallace & Young Distillers. Let's see if there's some Ardbeg or Lagavulin inside ;-)… Colour: straw (hurray!) Nose: lots of fresh malt and fresh fruits, once again this is quite pleasant. I find some porridge, a touch of smoke and shoe polish (really), many green apples, yellower apples, then notes of plum spirit (with this almondy touch) as well as a little lemon. Very honest, I say. Mouth: the power of malt! So malt, lemon, cereals, ginger, a smoky side once again, more lemons, some pepper… Even the mouth feel is very okay. Finish: of medium length, with a few dirty touches (dust) but otherwise pleasantly malty. Comments: there's nothing wrong with this young baby. The malt speaks out, and it almost made it to the 75-mark in my book.

SGP:451 - 74 points.

GW. Stanson 8 yo (40%, Aldi, blended whisky, 1l, +/-2014)

Oh, no, we've been swindled! Now that I'm reading the finer prints on the back label, I'm finding out that this is a blend of Canadian and Indian whiskies, there's not one single drop of Scotch in it, despite a pretty high price (15.99€ for one litre). The blurb is a bit scary too: "Maturation in wooden barrels generates smoothness, character and mixability". If you say so… Colour: full gold. Nose: no. Cardboard, dust, then nutmeg and artificial vanilla. This reeks of wood chips if you ask me. As for the 8 years… Well… Mouth: nah, this is flat, burnt, too caramelised, and the notes of sour fruits in the background won't save it. Perhaps these oranges… Perhaps! But I remember I've tasted much worse, this is still kind of drinkable. Finish: short, but unexpectedly clean and orangey. There's a feeling of cheap orange liqueur – perhaps there is some cheap orange liqueur in here. Comments: the funniest part is that the whole remains rather acceptable despite the many weaknesses. In a way, it's weak spirit – not sure we could call this whisky – but it's not exactly flawed spirit, if you see what I mean. Nutshell: not the utter horror, despite its very unlikely pedigree.

SGP:430 - 42 points.

Phew, we made it, didn't we. I think we can say that Lidl won this stupid little game.

Today:

JAZZ

. Performer: Gato Barbieri. Track: Ninos.

Please

visit

his

website and buy

his

music

...

January 26, 2015

---

Little duels, Imperial 1995 vs. 1977

Not a lot to say. You know the story, the distillery's just been demolished and quickly rebuilt under a new name: Dalmunach (no that's not a crossbreed of Dalmore and Balmenach).

Imperial 18 yo 1995/2014 (52.3%, Acla da Fans, Switzerland, bourbon hogshead)

Colour: straw. Nose: as zesty and 'green' as the zestiest and greenest white Sancerre, ridden with limestone, lemons, grapefruits and hay. That's all folks, but that's already quite a lot. With water: as fresh and vibrant as meadows after an April shower. We might be a little early with this. Seriously, this is crystal. And I also love the cumin in there, there is something of fresh choucroute. Mouth (neat): hurray! Mezcal and lemon juice, grapefruits, gin, plus a little vanilla. Everything is perfect. To think that we used to neglect Imperial in the old days – but it's also a matter of offer, isn't it! With water: malt, mint, green apples. A bit of bitter oak as well, but quite curiously, it's mingled with a little honey. Finish: quite long, rather on overripe apples. Comments: well, I was ready to go even higher, but I'm not sure it swims to well on your palate. A great Imperial nonetheless.

SGP:551 - 86 points.

Imperial-Glenlivet 37 yo 1977/2015 (53.5%, Cadenhead, Single Cask)

A 'January' bottling by Cadenhead, not too sure when it was disgorged, 2014 or 2015. I believe this might be the oldest Imperial I've ever tried. Colour: gold. Nose: coin box camphor shoe polish butter cream cough syrup shoe polish yogurt damp earth old cellar cellulosic varnish bitter oranges. I may have missed a few commas. No I didn't mean Polish yogurt. With water: same, plus some mashed potatoes, Robuchon-style. 50% mashed potatoes, 50% fresh butter. Mouth (neat): depressingly great. You could tell your doctor this is just cough syrup, but what a cough syrup! Orgeat, eucalyptus, citrons, peppermint, lemon marmalade, 'sharp yet great' green tea (perhaps over-infused Taiwanese wulong but I'm really making this up), cumin, caraway, aniseed, lemon zests… What a whirlwind! Sure there's some oak but it's a kind of zesty oak, bordering liquorice wood. With water: plenty of tiny herbs come out, together with sour apples and a piny oakiness. Green tannins. Careful with water! Who said always, who? Finish: long and rather peppery this time. Peppered chartreuse and lemon marmalade. Comments: gives you your faith back. Yes there's still great whisky coming out, but using water on this is a little tricky – or I'd have gone even higher than…

SGP:471 - 92 points

(forgot to ask you to call our favourite brigade).

January 23, 2015

---

There's a new AnCnoc (Knockdhu) 18 years old, let's try it. As a sparring partner, we'll have one of the NAS peaters that I hadn't tried yet.

AnCnoc 18 yo (46%, OB, 2014)

A combination of ex-bourbon and ex-sherry cask, the latter also being ex-European oak. Colour: deep gold. Nose: starts with quite some butterscotch, honey-glazed pastries and toffee. Goes on with more marmalade and a touch of clove, coffee beans (torrefaction), a dash of nutmeg powder and a little cocoa powder. I find rather subtle and elegant, despite these rather heavy notes of butterscotch. But who doesn't love butterscotch? Mouth: starts rather malty and chocolaty, before more notes of marmalade break through. A touch of ginger and nutmeg from the oak, some sappy honey, hints of walnut skin, as well as not-too-sweet raisins. Solid body, the strength is perfect. Finish: rather long, a tad greener this time, with notes of leather and a touch of mustard. From the European oak? Greenish malt in the aftertaste. Comments: a very pleasant dram that stayed rather close to plain malt throughout the years. I also like the spiciness that may come from European oak. Really reminds me of the 16, with more spices and punch.

SGP:451 - 85 points.

AnCnoc 'Cutter' (46%, OB, 2014)

After Rutter (11ppm, WF 84), Flaughter (14.8ppm, WF 87) and Tushkar (15ppm, WF 86), this Cutter offers 20.5ppm peat, which already means 'very peaty'. Colour: pale white wine. Nose: yeah, this is very smoky and ashy. Putting your head into a coal stove (that's not working, eh), smelling cigar ashes, then rather linseed and graphite oils, some damp chalk, soot, a little metal polish… There's also a wee medicinal side (antiseptic) and only minor fruity notes, such as green plums, perhaps. Mouth: it's not really multidimensional but it's got a lot of peat again – reminds me Bunnahabhain Moine – an obvious ashy side, notes of cider apples, lime, a touch of salt that may be triggered by the smoke, all that with a rather oily texture. It's quite dry globally. Finish: quite long, with interesting yeasty touches, and just like in the 18, notes of fresh walnuts. The aftertaste is unexpectedly coastal, very fresh. Some lemon as well. Comments: certainly an excellent peater, firm and clean, a tad more coastal and medicinal than other peaty offerings from Scotland's mainland. I really like it a lot.

SGP:346 - 86 points.

January 22, 2015

---

Dirty and crystal clean Ben Nevis

Ben Nevis can be very rock and roll, sometimes extreme, and sometimes brilliant. No doubt these babies will all be pretty different…

Ben Nevis 16 yo 1997/2013 (53,2%, Maltbarn, 91 bottles) Colour: straw. Nose: if find this one very grassy and sooty. Bags of cut grass, then apple peelings, green apples, ultra-dry champagne, with in the background, some kind of sour herbs as well as some very dry lemony touches. This baby seems to be very tense and austere. With water: it's the soot that further stands out, with also gravel and some kind of metallic dust. Even more cut grass as well. Mouth (neat): a rather extreme blend of green apple juice, mustard, and grapefruits, with some peppery sawdust. Very, very austere, a bit like some extreme sauvignon that 'allows you to double-check the good shape your vertebras when it goes down'. With water: a slightly soapy dustiness, quite 'Ben Nevis'. Finish: long, rather astringent, grassy and green. Green bananas. Comments: very extreme indeed. For Jansenists, perhaps.

SGP:262 - 79 points.

Ben Nevis 18 yo 1996/2014 (50.7%, Liquid Treasures, bourbon hogshead)

Colour: gold. Nose: this time it's rather a combination of seaweed and fresh butter that we're nosing, all we're missing is a dozen oysters. It's certainly butyric, maybe a little acetic as well, and even a tad metallic, so very 'Ben Nevis'. Strange and fun spirit. Pleasant notes of cut apples, passion fruits and peaches in the background. A few jelly babies too. Fun indeed. With water: farmy notes, slightly muddy, farmyard after the rain… A lot of cut grass as well. Mouth (neat): strange fruits! Muscatel, passion fruits, peaches again, plus a wee feeling of sawdust and ashes. With water: the lemony flavours woke up! Grapefruits, lemons… All that with an oaky undertone. And drops of ginger ale? Finish: quite long, on ginger tonic and limoncello. Nice cocktail. Comments: a much cleaner, fruitier Ben Nevis. Less challenging than the 1997.

SGP:552 - 86 points.

Ben Nevis 18 yo 1996/2014 (50,9%, The Whisky Mercenary for Whisky Troef)

Colour: gold. Nose: this baby's very extremely close to the previous 1996, except that the passion fruits and maybe notes of melon seem to come earlier. With water: same farmyardy notes. Mouth (neat): very similar again. Passion fruits, peaches, jellybeans, a very wee touch of salt… With water: again, extremely similar. Pink grapefruits, sweets, jell-o, ginger and pepper… The salt is gone, it seems. Finish: rather long, with some tinned fruits, liqueurs, this ginger again, a little quinine perhaps… And a touch of soot. Comments: really very close – so very good, I think. The cleanest side of Ben Nevis.

SGP:552 – 86 points.

Ben Nevis 18 yo 1996/2014 (53.1%, Single Cask Collection, sherry butt, 454 bottles)

Colour: amber. Nose: oh this is weird. Metallic oranges? Metal polish blended with peony liqueur (does that even exist?) Old wine vinegar? Some sides remind me of the official 10, I have to say. Plenty of soot, concrete dust, then touches of Tang or Fanta… Very unusual, that's for sure. With water: the sooty/dusty side comes out more. Whiffs of fresh parsley. Mouth (neat): much less weird. Peppered overripe strawberries, kirsch-filled chocolate, bitter oranges, some kind of caraway-and-grenadine combo… In short, lots happening in this one, but it ain't dissonant. With water: nice! Orange flavoured Schweppes, some pepper. Finish: rather long. Seville oranges, ginger, white pepper. Comments: we're close to the style of some OBs. There's always something happening in a Ben Nevis.

SGP:452 - 84 points.

Let's try to find a much older one as today's last drop…

Ben Nevis 43 yo 1970/2014 (44.6%, The Nectar of the Daily Drams, bourbon)

1970 used to be a great vintage as far as the officials were concerned, so we're having deep hopes… Colour: gold. Nose: starts with truckloads of marzipan, fresh almonds, then 'Seccotine' glue, kirsch, maraschino, amaretti biscuits, nail varnish… Well, you see what I mean. I've rarely come across malt whisky that was that almondy. Mouth: the wood's talking loud. Plenty of almonds once again, white pepper, bags of cinnamon, these varnishy notes once again, the kirsch as well, some bitter oranges, orange blossom water… Tends to get drying after a few seconds, with this feeling of crunching some cinnamon sticks. Finish: of medium length, with even more cinnamon. It's a miracle that it isn't even too drying. Comments: you've almost the impression of drinking some oak-aged sloe gin. Interesting, but mixed feelings here…

SGP:361 - 81 points.

Pete McPeat and Jack Washback

Today:

JAZZ

. Performer: the Mingus big band. Track: an unbeatable Moanin'.

Please

visit

their

website and buy

their

music

...

January 21, 2015

---

Auchentoshan vs. Auchentoshan

Let's have a little Auchentoshan today, that'll give us 'an illusion of summer'.

Auchentoshan 23 yo 1990/2014 (47.7%, Whisky Fässle and Whiskybase, hogshead)

A joint bottling, two different labels. Colour: white wine. Nose: no wham-bam-here-I-am whisky at all, this is a light whisky that needs your attention before you notice these notes of Haribo bears, of tinned peaches, of cut grass, of freshly brewed Japanese green tea, and of unlit menthol cigarettes. I also find beautiful whiffs of honeysuckle tea, as well as touches of artisan marzipan. You just have to not rush it. Mouth: almost desert. Limejuice, custard, liquorice allsorts, some kind of sweet oil, some barley sugar and, once again tinned peaches and apricots. Would be perfect to wet some fruit salad. Oily texture.

Finish: of medium length, just as fruity and oily as before. Comments: most certainly one of the better Auchentoshans. It's got something Irish and reminds me of Redbreast 12. Yeah, honest. SGP:531 - 85 points.

Auchentoshan 21 yo 1992/2014 (52.1%, Whisky Fässle, hogshead)

This one's younger but it's also pretty stronger, so I thought we'd have it as #2. The colour is also darker. Colour: gold. Nose: styles are obviously similar, but this one feels a little rougher and more spirity. That might just be the higher strength, so… With water: wow, we managed to copy the 1990! Aren't we good? Ok, ok, ok… Mouth (neat): oh excellent, this is tart and zesty, and is a little reminiscent of Rosebank. Bags and bags of all things made by Haribo, rather of the lemon-flavoured kind. Sweets, drops, jellies and other less reputable things. Really fun! With water: once again, we replica-ed the 1990. So proud… Right, this one has a tad more citrus, perhaps, as well as a little more fudge. Finish: medium, citrusy, slightly candied. Comments: these Auchentoshans aren't deep whiskies, but I find them refreshingly joyful, and I think they like not to be ridden with oaky flavours.

SGP:531 - 85 points.

Today:

JAZZ

. Performer: Tom Harrell. Track: Nite Life.

Please

visit

his

website and buy

his

music

...

January 19, 2015

---

Simply more Glenlivets, all very recent. Especially two fairly new official NAS. Not too sure age still matters… ;-).

Glenlivet 'Master Distiller's Reserve' (40%, OB, +/-2014) Some kind of NAS whisky for travel retail (where anything seems to be getting more expensive than anywhere else). Colour: full gold. Nose: rather modern, that is to say with the usual overripe apples and even bubblegum and liquorice allsorts, plus a layer of maple syrup, vanilla and raisins. Then we rather have whiffs of humus and fern, which can't be bad news. Mouth: bags and bags of caramel, fudge, vanilla, Ovaltine… The mouth feel is light, even thin, but the whole is pleasantly smooth. Ha, smoothness. I have to say some sides of it make me think of Chivas 18. Finish: a little short, malty. Vanilla fudge and a touch of tobacco in the aftertaste. Comments: this harmless baby should please the travelling crowds. I think it's very well composed, but the low strength is frustrating.

SGP:441 - 79 points.

Glenlivet 'Nàdurra Oloroso' (60.7%, OB, batch #OLO614, 2014)

The oloroso-ed version of Nàdurra 16 years old. You may have noticed that while it's gained sherry, it's lost an age statement. How surprising. It's a cask strength version. Colour: deep gold. Nose: starts with a lot of varnish and marshmallows, then a lot of coffee and chocolate, rather ala GF 105 or A'bunadh. I do really enjoy the notes of soy sauce, game, ham and tobacco that start to come out after a while. With water: some flints, hay, farmy notes, old leather, walnuts… The sherry's doing its job. Mouth (neat): rich, fruity, with a sweet and liqueury side instead of those gamy/meaty notes that we had found in the nose. Oak aged Cointreau? With water: some green oak coming out, green peppercorns, more leather, ginger… Finish: quite long, oily, with more fruits than grass. Perhaps blackcurrants. Comments: I think I enjoy the traditional Nàdurra's vibrancy better, but there's no doubt this works. Funny palate with a glissando from jammy fruits to green oak.

SGP:461 - 83 points.

Glenlivet 15 yo 1998/2014 (54.8%, Signatory Vintage for Whiskybrother, South Africa, oloroso sherry butt, cask # 128811, 419 bottles)

I've already tried South African whiskies, or whiskies finished/matured in South African wine casks, but I think it's the first time I'm trying whisky that was done for a South African bottler. Colour: amber. Nose: we know that Signatory's got some very fine middle-aged sherried Glenlivet, and this is another fine example. Starts with tobacco and tobacco smoke, tamarind jam, cassis, espresso and prunes, and gets then a notch meatier, although the whole remains clean and rather fresh for full sherry. After five minutes, we're rather finding bags of chocolate mints. With water: traces of rubber, bicycle inner tubes and such, then hay and farmyard. Normal. Mouth (neat): excellent, clean, fruity, jammy, and yet fresh, easy, sexy… Yes, sexy. Fruitcake, raspberry jam, wheelbarrows of dried figs, cups of cappuccino and then some kind of spicy pipe tobacco. All good. With water: bitter oranges coming out, as well as a little ginger. Finish: long, on marmalade, candied ginger and sweet pepper. Comments: only flaw, we knew this was going to be excellent – while we love surprises.

SGP:551 - 87 points.

Glenlivet 32 yo 1981/2014 (52%, Signatory Vintage for The Whisky Exchange, refill sherry, cask #9460, 140 bottles) I guess it's a sherry hogshead, according to the outturn. Colour: amber. Nose: a better polished, subtler, more elegant version of a sherry monster. Love this 'old' tobacco, the leather polish, the bitter chocolate, the walnut liqueur, or nicer yet, the herbal teas, or the old dry sherries, manzanilla and such. Or palo cortado? Not exactly oloroso, I mean. With water: hints of manure, cut cactus, old horse saddle… Mouth (neat): perfect. Some leathery and spicy fruits, all that in a great way. Crunching a cake of pu-erh tea (don't try that at home), green oranges, mint lozenges, plenty of walnuts, both fresh and old, bay leaves, even some juniper… What's sure is that it's no sultry or luscious sweet sherry at all. With water: indeed, excellent. Some mint, fennel, lime blossom, a drop of lemon juice (very unusual in sherry monsters)… Finish: long, on herbs and fresh walnuts. Comments: dry sherry at its best – even if the distillate didn't have much to say in this context. Maybe a little challenging at times, but yeah…

SGP:361 - 89 points.

Glenlivet 35 yo 1979/2014 (51.3%, Silver Seal) 'Whisky is Art', says the label. Indeed, whisky can be art. Sometimes. Let's see. Colour: full gold. Nose: it is more 'Glenlivety' than the 1981, thanks to some much milder sherry – provided it's sherry cask, but in that case it's Xth-fill. That means that we find overripe apples again, almond oil, some light honey, blond tobacco, fresh walnuts yet again, maybe drops of sunflower oil, just bits and pieces of old leather (grandma's patch box)… In truth, the jury's still out, this could be either fantastically subtle, or rather flat. With water: it's not flat. This is a walk in the forest after a summer rain, or in an old herbalist's shop. Mouth (neat): if you love porcinis and other mushrooms as much as I do, this is for you. Lemon liqueur with porcini powder. How funny, how good. With water: delicate spices, crystallised citrus, mints, a drop of cough syrup, some bitter herbs. Finish: medium, on various herbal spices from the oak. Only the aftertaste is a bit too drying and green, which makes it lose one or two points. Comments: it was a lovely refill cask. Only time can do this. No 'technology' could do this. Now, do we really need this pre-Photoshop style of whisky? Yes we do!

SGP:361 - 90 points.

I had some very old digestif at hand but since we've found a 90, we could as well stop here.

January 18, 2015

---

Malternatives on Sunday, today armagnac

I really find it amazing that after decades of (almost) silence, more and more lovers of aged spirits are talking about armagnac again. Especially in America! We'll try to build a wee – I mean, a petit – crescendo.

Clés Des Ducs V.S.O.P. (40%, OB, armagnac blend, +/-2014)

VSOP means a minimum of four years of maturation. This one comes in a traditional flat bottle called a basquaise. It's like a racquet if you will. This brand is widely available in France and a bottle of VSOP goes for 25€. Colour: gold. Nose: fairly easy but not downright fruity, or that would rather be greengages. Also raisins, as usual, apples, a touch of eucalyptus to balance the fruits, and just hints of toasted oak and liquorice. Easy, fresh and clean for an armagnac. Mouth: easy and fruity again, with a few rough notes (feeling kirsch), and perhaps a sucrosity, but it's otherwise pleasant, with good body. Notes of dried figs and raisins, as well as a little oak. Finish: of medium length, with soft tannins and some plums again. Comments: I find this pleasant, rounded, fruity and easy. Not too 'commercial', goes down well.

SGP:441 - 79 points.

Janneau VSOP (40%, OB, armagnac, blend, +/-2014) This VSOP is said to be rather older than 4, like many others. Probably around 8. The bottle is quite spectacular, there is some BFYB effect here. Unless… Colour: amber gold. Nose: it is a rounder, more candied and more vanilla-ed version after the Clés des Ducs, more polished, more fudgy, with many more raisins. As a consequence, it's a little less fresh and clean, but it's nicely aromatic. Oh and easy, or so it seems. Mouth: good, easy, maybe a tad gritty at times, but that's Armagnac. Apple peelings, cherries, oranges and raisins. Nit as soft and smooth as the nose suggested, that's for sure. Pleasant mouth feel, even if it tends to lose steam. The 40% again… Finish: a little short and maybe a little too grassy. More apple peelings, little roundness. Comments: the nose was quite something, the palate was a little too rough. One point below the Clés des Ducs in my book – tell me about a crescendo. Fail!

SGP:451 - 78 points.

Gélas 18 yo 'Single Cask Double-Matured Porto Barros' (42%, OB, bas-armagnac, 800 bottles, +/-2014)

Gélas seem to be trying to mimic Scotch with these bottlings. The grapes they used for this were mainly baco and ugni blanc. Colour: amber gold. Nose: the Port is very discreet, and that's great news if you ask me. It's a rather firmer armagnac after the Janneau, with more leaves and leather on top of the obligatory raisins, more prunes as well, then a little caramel, café latte and maybe a touch of rancio. Maybe a little more rustic than the others, in a good way. Mouth: pretty excellent, really makes the difference after the VSOPs. Blood oranges, Seville oranges, dry liquorice, pink peppercorns, maybe a touch of blackcurrant from the Port – maybe – and then rather hawthorn and rosewater (oriental pastries, Turkish delights). Good body, 42% are already enough, no frustrations. Finish: of medium length, rather fruity. More blood oranges and Corinthian raisins, with a touch of earth and white pepper in the aftertaste. Comments: very well executed, even if the Port may have imparted a wee feeling of Spanish brandy. Yup, I know where's Oporto.

SGP:541 - 84 points.

Francis Darroze 29 yo 1985/2014 'Domaine de Bertruc' (45%, OB, bas-armagnac)

Darroze have got an excellent reputation. This baby wasn't reduced, it's cask strength and, of course, single domaine. Colour: deep amber. Nose: this is something different indeed, it's much wilder, with a lot of tobacco and prunes, hay, wee whiffs of clean manure (I'd say), rotting oranges, which is nice, then a mustiness, mushrooms, cigars, a little camphor… Sounds like malt whisky? Indeed! Mouth: lovely wild armagnac again, with good body, this typical grittiness (grape skins), oranges, white pepper, a little gingerbread, certainly some tobacco again and then a little green wood, which might be a tiny flaw. Really small house armagnac, with again a rustic side that goes so well with this spirit. The 29 years don't feel much. Finish: quite long and quite dry, with some tea and pepper. Maybe a little drying, in fact. The aftertaste is a tad dusty. Comments: I find this excellent, only the oak in the finish was a little less entrancing. Oh, a price, you ask. 68€ for a 29yo cask strength armagnac de propriétaire. Enough said.

SGP:551 - 86 points.

Dartigalongue 1959 (40%, OB, bas-armagnac, +/-2010)

Dartigalongue are one of, if not the oldest house in Armagnac. They are located in Nogaro, in the Gers region, where there also is a magnificent racing circuit. Just saying. This kind of bottle typically goes for around 200-250€. Yes it's fifty years old. Colour: deep amber. Nose: sweet Jesus, Mary and Joseph! This is admirable, polished, rounded, loaded with prunes and black raisins, fudge, chocolate, coffee, then more complex notes of old orange liqueur, cigars, rancio, a drop of oyster sauce perhaps, medlars, rich chestnut honey, menthol, camphor… Absolutely endless, this one really does the peacock's tail. Sure the low strength augurs ill for the palate, but you never know. Stunning nose nonetheless. Mouth: no, really, it's fine, the spirit's thick and heavy enough to stand the low strength. Starts with clear notes of Port (there's more Port than in the Port-finished Gélas!) and goes on with several varieties of raisins, certainly bags of prunes, as often, and a fruity combination that we call 'confiture de vieux garçon' over here. Ripe strawberries, oranges, red wine, bits of cloves, cinnamon, zwetschke… Finish: pretty long, with a curious, but lovely blend of cinnamon, raisins and strawberries. The aftertaste is a little grapy, as it should be. Comments: this is going to be some big fat…

SGP:651 - 90 points.

Great session methinks. Lovely armagnacs – oh yeah, in French, you write armagnac without a capital A when mentioning the drink, and with a capital letter when mentioning the place. I know, a little weird…

(with thanks to Olivier and Michal)

January 16, 2015

---

A little bag of Tomintoul

Some sometimes call the official Tomintouls 'malts for tourists', as indeed, you see them absolutely everywhere in Scotland, from the tiniest 'Celtic' shops to airport retail (where whisky's become more expensive than anywhere else in the world, or so it seems).

Tomintoul 10 yo (40%, OB, +/-2014)

It seems that it's been eight years since I last tried Tomintoul 10! Colour: pale gold. Nose: light and relatively malty and barleyish, with some overripe apples and a very wee metallic side, Irish style. It's also rather floral, I do seem to find lilac, for example, as well as violets. Rather reminiscent of some blend, I'd say. Mouth: very easy, and once again a little 'blendy'. Apple pie, a little fudge, butterscotch (quite a lot), a little candy sugar, a touch of maple syrup, a little liquorice, cornflakes… Quite pleasant but it's also a little thin. Finish: rather short, somewhat 'Kelloggy' (what?) Grassier aftertaste. Comments: I'm always glad to try these whiskies because they perfectly represent what 75 points mean. Honest malty whisky without bells and whistles. For tourists indeed?

SGP:341 - 75 points.

Let's try an older official…

Tomintoul 16 yo (40%, OB, +/-2014)

The 16 has got a new livery as well. I really liked it last time I tasted it, but that was in 2007 (WF 81). Colour: gold. Nose: similar, obviously, just more on butterscotch, warm croissants, a pastry shop early on Sunday morning (yeah yeah) and maybe with the faintest hint of menthol and liquorice. Rubbed dill or fennel. Far from unpleasant. Mouth: same differences. A creamier body, more vanilla or rather custard, plenty of cornflakes, maybe walnuts and almonds, and certainly a lot of malt. Probably one of the maltiest malts around. Guinness. A few berries. Finish: rather short, candied and malty, with once again a grassier aftertaste. Comments: fine fine fine. Tourists are not being swindled.

SGP:441 - 78 points.

Time to have an old indie, perhaps…

Tomintoul 45 yo 1968/2013 (48%, The Whisky Agency, The Perfect Dram, bourbon hogshead, 143 bottles)

Watch out, in my experience, these oldies can be a little flat and tired… Colour: bronze gold. There really are green hues, which may come from a nail and/or a patch. Nose: lovely lovely lovely (that'll do, S.) Some very delicate notes of blood oranges, pomegranates and tinned litchis, coated with a little honeydew and a trace of olive oil, then more and more flowers, around dandelions, buttercups and other wild flowers. A very subtle and elegant nose, but you know, palates… Mouth: a little miracle, this one hasn't got flat and oaky, it's still pretty much alive, rather on oranges this time. Also earl grey tea, herbal teas, mint lozenges, a drop of Cynar (artichoke), or what we call amer bière in France (some kind of traditional bitter than some pour into their beers – don't ask). Maybe also a touch of soap? Finish: rather short, fruity, soft, with only minor oakiness – a miracle indeed. A touch of peppery grass in the aftertaste. Comments: it's a good opportunity to try a very old malt at a fair price (still available for +/-250€).

SGP:551 - 88 points.

January 15, 2015

---

New Aberfeldy 12 plus two

Just like Craigellachie and Aultmore, Bacardi's Aberfeldy has just been repackaged in 2014. Let's try the new 12, and maybe a few others…

Aberfeldy 12 yo (40%, OB, +/-2014) I do love this new livery, although I have to say that I find this retro craze a little scary. Why do they all, including some indies such as DL, go for the 1920s or even the 1910s these days? Or is it only a temporary 'hipster brand' thing? So much for 'innovation'! Colour: gold. Nose: really light, nutty and grainy, with a touch of praline and a very soft floral side. A little marmalade as well. Tinned peaches. Very inoffensive so far, this really is the lighter side of malt whisky. Mouth: bigger and fatter, very malty, with notes of ale and a touch of honey, as well as more grass than expected. More marmalade as well. Finish: rather lighter again, clean, with some Ovaltine and an unexpected salty touch in the aftertaste. Comments: I've just read my notes for the older 'livery', and it seems that what's inside this lovely new bottle hasn't changed. Solid malty malt.

SGP:441 - 79 points.

Aberfeldy 1995/2014 (55.8%, Gordon & MacPhail, Cask Strength, refill sherry hogshead, casks #2488, 2489 & 2491)

This might be the total opposite of the new OB. Colour: straw. Nose: probably a rather good example of a very punchy malt that's aromatically quite light. I find some candy sugar, caramelised apples, then the same kinds of flowers as in the 12, then plenty of barley, both malted and unmalted. And cereal bars, breakfast biscuits and such… With water: freshly mown lawn, a little mud, maltbarn, then rather grapefruits… Swims very well. Mouth (neat): very thick, with the texture of honey, then an immense maltiness. It's maltier than malt! Also toasted bread and roasted peanuts. Spectacular in its own genre, while the sherry's quite shy. Maybe a handful of raisins? With water: gets fruitier. Again, oranges and grapefruits. Having said that there's a rising bitterness. Bitter oak? Finish: long and a little astringent. Lemon skin and grass. Comments: some parts were exhilarating (the nose with water) while others have been harder (the finish).

SGP:461 - 84 points.

Aberfeldy 23 yo 1978/2001 (50%, Douglas Laing, Old Malt Cask, 186 bottles)

Colour: full gold. Nose: a rounder, fatter and more mentholated version of the G&M, reeking of oak oils, pinesap, cough syrup, then rather earth and clay… It's a style, as they say. These whiskies are often very interesting on the nose, but the palate may be much more difficult. With water: full grassy maltiness and no mint and sap left anywhere. Fun and strange. Mouth (neat): probably a love-it-or-hate-it malt, because of these rather extreme menthol and sap notes that are striking again. A lot of honeydew mixed with cough syrup and Bénédictine. Thick mouth feel, you'd almost feel you need a spoon to get it out of your glass. With water: oh, the same phenomenon happens, water kills anything resinous and opens the door to fresh oranges. Finish: long, with a profile that depends on the amount of water you added. Comments: two whiskies in one! These beastly babies are always hard to score. Bah, let's say…

SGP:461 - 82 points.

Pete McPeat and Jack Washback

---


Previous entries (archived)

There's nothing more down there...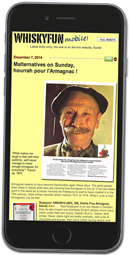 Read Whiskyfun's daily
posts
on your mobile