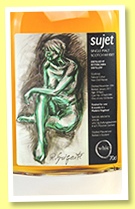 Fettercairn 10 yo 2006/2017 (52.6%, Wich, Sujet, Madeira finish, cask #107660, 420 bottles)


An 8-month finishing in Madeira was done here. Colour: pale gold. Nose: granted, doing a Madeira finishing to some Fettercairn sounds a bit like adding walnuts to walnuts, and indeed walnuts are ruling the show here, before more ink, carbon, vegetal earth, plasticine, Bakelite and new leatherette start to join in. How very Fettercairn! With water: cardboard, old magazines, mud. Mouth (neat): creamy, almost fat, bitter, plasticky, then with notes of grenadine, walnut wine, soy sauce, tobacco… It really is a loco dram. Almost forgot to mention bone-dry Madeira. With water: a tad sweeter and rounder, better defined, with nice notes of orange-filled chocolate and raisins. Wasn't it sweet Madeira, after all? Finish: long, with this typical butteriness. Comments: they managed to further increase the Fettercairness here, no small feat. Perhaps try with Ardbeg next time? Forgot to add that I find this baby pretty good, one of the better Fettercairns in my book.


SGP:561 - 82 points.