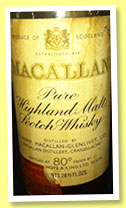 Macallan 1951 (80°proof, OB, Campbell, Hope & King, Italy, +/-1966)

It's got a red sticker on the bottom of the main label, which, in WF's book, makes it different from the other 1951s by CH&K that haven't got that red sticker – and that we've tried before. Okay? BTW, in case you don't know, Campbell, Hope & King were the 'official' bottlers of Macallan until around 1978, together with G&M who were a bit less 'official' (but pretty good!) Macallan themselves took over around 1980. Sadly, CH&K went to the wall in the late 1970s, not too sure that was a consequence – or was it the cause. But enough gossip… Colour: gold. Nose: this is real old Macallan, with a seemingly much fatter profile, full of oils, saps and earths, then notes of old books and leathers, inks, tobacco, pitch… It's only after that very tertiary barrage that fruitier and jammier notes take off, such as dates, figs and raisins, marmalade, cherry jam and all that. After ten minutes if rather becomes mentholy, in a beautiful way. Humus, moss, mushrooms… Mouth: yess. Old chartreuse plus old Grand-Marnier, fifty-fifty. Oily mouth feel (worm tubs and all that), herbs, jams, soy sauce, liqueurs, peat smokiness, liquorice, mineral things, mint drops, cigarette tobacco, pipe tobacco, a touch of salt… This bottle was brilliant. And it tastes like 46% vol. Finish: very long, with less sweetness – always good in any finish – and a lasting feeling of salty mineral things, plus liquorice. Comments: indeed, great bottle. Old bottles tend to become a bit different from each other, especially when they were kept in very different environments, so scores can vary quite a bit. Yeah, this one was a great one, I'm sure it had been kept next to an Old Clynelish. Sorry, just another lousy joke.

SGP:562 - 93 points.