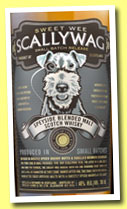 Scallywag (46%, Douglas Laing, blended malt, 2013)

A funny dog, why not. Welcome back, Tintin. There's only Speyside malts inside. Colour: amber. Nose: the Old Perth at a higher strength. Same feeling of malt, roasted nuts, apple pie, raisins, honeydew and candy sugar. It's bigger but that's normal. Goes on with more cider apples and green pears, which actually balances it. Wee touches of rubber, possibly from some sherry casks. Mouth: creamy, fruity, malty. Very close to the Old Perth, the styles are almost identical. So very Speysidy, with a little sherry, overripe apples and pears, honey, cane sugar, caramel, praline, fudge… Finish: quite long, candied and yet relatively light. Marmalade. Comments: good oomph, but there's some youth that comes out. Very decent, I'd say, which is what I was expecting anyway. 'Above-blends' category.
SGP:441 - 81 points
(we're making good progress, aren't we).