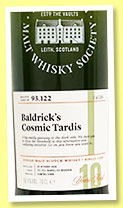 Glen Scotia 10 yo 2008 (58.4%, Scotch Malt Whisky Society, #93.122, 'Baldrick's Cosmic Tardis', 236 bottles)


Right, with a name that nods both at Black Adder and at Frank Zappa (his Cosmic Debris) we cannot not be interested and attentive here, while still wondering what they're smoking at the SMWS's headquarters. Peat, perhaps? Colour: straw. Nose: phoo! Gym socks, rotting pineapple, long-forgotten Munster cheese, young durian, last year's yoghurts, fino sherry… Well, so far, so whacky. With water: lavender and violets, fifty-fifty, more rotting oranges, cloves, assaulting cheeses. I can't tell you which ones, I'm no cheese expert, by far (but I could start a blog, ha-ha). Mouth (neat): kid's mouthwash, Schweppes Strawberry, glue, raspberry vinegar, dry Madeira, Ras el Hanout, cumin… Ahem… With water: a bit more civilised. Cheese, caraway, marmalade, cassis jam. Finish: long. I suppose we're meant to mention turnips here and now. The aftertaste is quite nice. Comments: let's be serious, this is very funny (eh?) and intriguing, it's just that the hyper-yeasty flavours are so unusual that you cannot not wonder whether someone's not added 'stuff' to the barrel. Or to the distillate. O-M-G.

SGP:452 - 75 points

(frankly, this funky whisky is almost un-scorable).