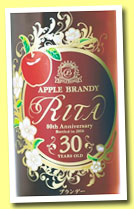 Rita 30 yo (43%, OB, Nikka, 80th anniversary, apple brandy, 2014)

Did you know that Nikka also used to produce cider, apple juice and apple brandy? I'm really curious about this kind of Japanese Calvados, named after Rita Taketsuru, born Jessie Roberta Cowan… Colour: deep gold. Nose: oh dear, we're aren't very far from malt whisky at first nosing, but indeed we're going more towards a lighter, rounder, less 'artisan' kind of calvados. Baked apples, rhubarb pie, a touch of cinnamon, a touch of sandalwood, some raisins for sure, a little vanilla… It's a very elegant spirit – and don't worry, we made a break after the invasive Karuizawa, otherwise Rita would have been crushed indeed. Mouth: much more 'old calvados', with these green apples, plenty of herbal tea and this expected gritty/grassy side, which is even more 'calvados'. Chamomile tea, overripe apples, gooseberries, a little caramel, a touch of marzipan… All is well, it's just that it tends to become a little drying. Finish: a little short, with some liquorice and cinnamon. Some vanilla in the aftertaste. Comments: the finish is a little less to my liking than the fresh and fruity arrival, but I'm the lousiest calvados connoisseur, so there.

SGP:550 - perhaps around 82 points.