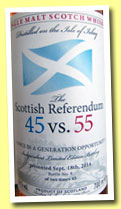 The Scottish Referendum 45 vs. 55 (55%, Reifferscheid, 90 bottles, 2014)

Some people are having fun with whisky, which is great, obviously. And no wonder the bottler of this whisky's into politics, as this neat little company's located in the lovely city of… Bonn, Germany. Great wines up there. Vollrads, Johannisberg (one day I'll tell you the story of my dear wife pouring a whole bottle of very old Johannisberger Erntebringer into a chicken broth of hers…) No, it's not Berlin. It doesn't say 'Lagavulin', but it is 'Lagavulin'. Colour: pale gold. Nose: younger than the official 12, or so it seems. There are eau-de-vie-ish notes, always signs of youth, including plenty of pears and quite some plums. What's fabulous is that it's totally spirit-driven, but on the other hand, it's pretty immature in my opinion. In the background, farmyardy tones, peaches and plenty of hay. Peaches aren't very Lagavulin, are they? With water: gets more new-make-y. Is that good or is that bad? More pears than in an Alsatian orchard. Mouth (neat): we're closer to the official 12. This is very young, pristine, very good, fruity, with this very typical rubber (a touch, a touch) and a few oriental spices. A fruit salad with a little ginger, cardamom and aniseed. Very straight. With water: excellent fruit juice with a little liquid smoke. Finish: long, clean, fruity and smoky. Very young Lagavulin. Comments: I think it's Signatory who used to have some undisclosed five year old Lagavulin quite a while back. Wasn't that fifteen years ago? This one reminds me of them. Neat!

SGP:637 - 85 points.