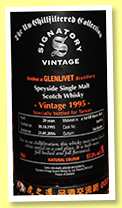 Glenlivet 20 yo 1995/2016 (57.3%, Signatory Vintage, for Taiwan, 1st fill sherry butt, cask # 166956, 564 bottles)


We've already tried many very good sherried 'livets by SV. Colour: full gold. Nose: typical, a tad wobbly at first, with some paraffin, two struck matches and even a touch of soap (Cadum!), but that's before many roasted nuts, chocolate, raisins and even a pack of Mars bars show up. Very nice whiffs of mocha as well. With water: leather and Cuban tobacco, that was to be expected. Mouth (neat): fantastic. Walnut wine, oloroso, black pepper, bitter chocolate, retsina, bitter oranges, black tea, umami and miso, chestnut honey… But boy is this thick! With water: great. Oranges, leather, Cointreau, honeydew, mead, and indeed and once again, that strange thing our friends the Scots seem to have a real love affair with, tah-da… Mars bars! Finish: long, thick honeyed, excellent. Oranges winning it, always the best outcome with these kinds of profiles – in my book, at least. Comments: they sure do them well – and I guess quite a few friends over there in Taiwan have done some blind tasting sessions with this kind of 'livet and some sherried Kavalans. So, which one won?


SGP:651 - 90 points.