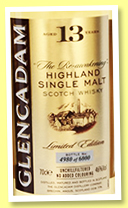 Glencadam 13 yo 'The Re-awakening' (46%, OB, 6000 bottles, 2017)


Sounds like the title of a free jazz album circa 1967. Colour: white wine. Nose: a wee bit of feints, perhaps, some sourdough for sure, lemon juice, bone-dry sauvignon, mashed potatoes, barley, fresh wholegrain bread, those sorts of things. As close to nature as malt whisky can get, I would say. Mouth: a little more difficult, for it became extremely grassy, harsh, rather cardboardy, bitter, sour… Notes of plaster, lemon squash, more sauvignon, grass juice, a drop of miso… It's a rather controversial style, I tend to rather enjoy this, but some other aficionados may just walk away. Finish: rather long, with a little mustard, fino sherry, even more plaster and cardboard… Comments: some kind of statement, maybe. Free whisky, perhaps, as in free jazz indeed. An Ornette of malt whisky?

SGP:371 - 80 points.