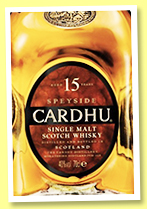 Cardhu 15 yo (40%, OB, +/-2017)


The light Cardhu is really big in France, where they kind of position it as a slightly 'feminine' whisky. Not that they would say that as such, but they really push the story about the distillery's founder, Helen Cumming. Even if I believe she was actually just the wife of the founder, a certain John Cumming. Oh well, nothing too important… Colour: full yellowish gold, sot totally natural (I think yellow or orange tones usually give caramel away). Nose: it' really light, pretty fresh, rather on cereals, chicory coffee, Jaffa cakes, butterscotch and custard, as well as floral tones, dandelions, buttercups, nectar…. All that works, it's really very pleasant and does not call for ice at all. Yet? Mouth: starts well, fresh, floral again, with nice touches of Cointreau, citron liqueur, even limoncello and a drop of crème de menthe. All real good, but it tends to lose steam after fifteen seconds, becoming a little drying, with some cardboard and supermarket tea (I mean tea powder). That's where you would think you should add two or three ice cubes. The fate of many a high-volume malt whisky at low strength, sadly. Finish: short, dry, with not much happening. Comments: they should do with these malts like what the monks do at Westvleteren, having a 6, an 8 and a 12. In the case of these malt whiskies, a 40, a 43, and a 46! Nose and arrival were pretty perfect.

SGP:441 - 79 points.