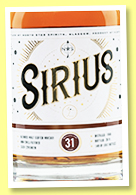 Sirius 31 yo (43.1%, North Star Spirits, blended malt, first fill bourbon barrel, 3582 bottles, 2019)

A large small batch here, I'm really glad they manage to fork out this many bottles. Great work, no doubt, what's more, the price is very fair. Colour: deep gold. Nose: fun stuff, full of fresh paint, bitter almonds, putty and Jamaican-rum-like esters. Then black olives, linoleum, and whiffs of rotting bananas. Funky rum-like indeed, looks like quite some bacterial fermentation has taken place here, somewhere, sometime… Having said that, the background remains classically malty and honeyed. Mouth: vive la difference! Indeed, this is totally unlike any other blend that I could try – while it's not untrue that I've tried a few of them (don't let it go to your head, S.). Resins, varnishes, embrocations, coconut balls, barbecued marshmallows, Jäger, nori, Japanese caramel sauce for ramen… well, stuff like that. It is extremely unusual indeed, but that's not this baby's main asset. What's sure is that the blender is a freethinker, and that he won't ever work for Johnnie Walker. Finish: long, still a little varnishy, almondy, with a saltier aftertaste. Comments: you cannot not wonder if one of the casks wasn't 'something else', perhaps something shipped by those fine distillers up there on Sirius. Seriously, this is not a blend for The House of Lords, but I doubt that was the goal in the first place. You have to be a little loco to be a fan – well, I'm very loco then.

SGP:562 - 89 points.