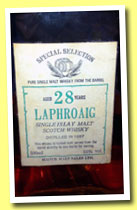 Laphroaig 28 yo 1967 (50%, Scotch Malt Sales, Japan, +/-1995)

One of the highlights of the Lindores Shrimp Croquette Festival in Oostende this year. These old bottlings for Japan are very rare, and very prestigious, despite (or because of?) some very unlikely wording on their labels. Such as, on this very one, "This whisky is casked malt served from the barrel directly to this bottle for carring." Mpffff… Colour: gold. Nose: oh, no! Didn't the bottlers add a few litres of Yquem from the same vintage to this? You know, Yquem 1967… I'm not joking, I've never found such wonderful notes of apricot jam, heather honey, beeswax and old roses in Laphroaig, never. Beyond that, touches of old cigars, clay, camphor, all sorts of unknown flagons in a long-closed pharmacy, and maybe whiffs of fir cone smoke. It's all pretty delicate, and yet firm, and yet delicate, and yet firm, and yet… With (a few drops of) water: more of the very same. Brilliant. Mouth (neat): makes you yodel. Big, almost massive, very piny, resinous, sappy, it's some kind of very old herbal liqueur that used to cure any disease. Even malt mania. Some kind of honeydew. With water: ah yes, greases and oils, more old liqueurs, many herbs, liquorice, some piny smokiness, the best oysters, mint drops, some sap… It's all very… symphonic? Oh and would you mind calling the anti-maltoporn brigade before it's really too late? Finish: it's where it loses one or three points (not only because this is the end), it's losing a bit of focus, perhaps, but it's still quite extraordinary. Comments: pure magic, the work of time, both in wood and in glass. Philosophical whisky.

SGP:575 - 95 points.