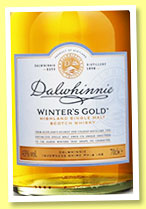 Dalwhinnie 'Winter's Gold' (43%, OB, 2015)

Diageo keep issuing NAS versions of their Classic Malts, and today it's Dalwhinnie that's on the table. Every time, there's the same question that arises, 'will they subsequently discontinue the former age-stated entry-level bottling?' In this case, that would be the 15. I do not have the answer, and after all, rumours are only rumours. This Winter's Gold, a name that might hint at the Distillery's rather high altitude, is supposed to be put into the freezer prior to pouring. A strange idea, but after all, adding lemon to Corona or to Belgian white beers was a strange idea as well. In short, this is chill filtering without the filtering part. For good measure, we've followed the owners' suggestion and have chilled a part of this baby (at -18°C, no less), while keeping the other part at room temperature. It's the first time we're doing this kind of stunt, but I guess there's a first time for everything. Colour: gold. Nose (room temp): typical honeyed and vanilla-ed profile, with the trademark maltiness and whiffs of Seville oranges. Perhaps touches of ginger, which makes it a little cocktaily, in a fairly good way. Chilled: nada, niente, nichts. Or nosing it from two metres away ;-). But it's fun to see it move like if it was oil in your glass. Mouth (room temp): peppery and rather oaky, with a feeling of sawdust, ginger, and cinnamon. Then more Dalwhinnian oranges and honey. Tastes young, with growing notes of fruit eau-de-vie. Certainly plum spirit, young slivovitz and all that. Chilled: well, as you won't take litres in your mouth, it heats up very fast and after a first wee 'ice cream effect', you end up with the same oaky and slivovitzy profile. Finish (both room temp and chilled): malt, oranges and honey are back, but the signature remains rather oaky. Comments: an honest, rather simple drop, I'd say. Freezing it seems to be only useful if you live in the middle of Death Valley or in good old Timbuktu.

SGP:351 - 78 points.