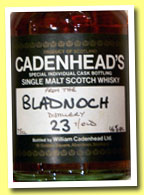 Bladnoch 23 yo (46%, Cadenhead, dumpy, handwritten label, +/-1990)
Colour: gold. Nose: aaaaahhhh! There, all these wonderful fruity tones we were expecting have arrived, together with some kind of smoky/sooty notes that go well with them. Also a lot of metal polish, we're well in the style of many old Dumpies by Cadenhead. Smoked tangerines? Very lovely nose, let's just hope the palate won't be too metallic. Mouth: a tad more deconstructed, if I may, with also some unexpected notes of coconut liqueur that give it a mild bourbon profile. It's not big, and I also find a little too much cardboard and drops of stale tea. Having said that, I enjoy the beeswax and the notes of old marc de Bourgogne, this wild earthiness (humus, another flavour that's often to be found in old dumpies in my experience) as well as these touches of bitter almonds, marzipan and lemon zests. It's a complex whisky, it just lacks focus. Finish: not too long, rather green, drying, with a lot of green tea and a peppery aftertaste. The good news is that there are also tangerines and grapefruits. Comments: it's not a very harmonious old Bladnoch in my opinion, but we're well above the newer ones, mainly because of the citrus.
SGP:461 - 84 points.