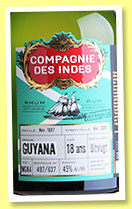 Uitvlugt 18 yo 1997/2016 (45%, Compagnie des Indes, Guyana, cask #MGA4, 637 bottles)

A Demerara from the famous old four-column Savalle still. I think I've already written about what I think of la Compagnie des Indes – and of Uitvlugt. Colour: white wine. Nose: it's really fascinating to notice the parentage between the St Lucian, the Jamaican, and this Guyanese. Same tarry start, same kind of liquorice, same olives and other briny things, and same old English engine. Now, this time it's the coastal side that's a little more noticeable, anchovies in brine, old leather grease, dried kelp… In a way, it's the most 'Islayian' of them all. Mouth: to be honest, had I tried this baby blind, I'd have said 'Jamaica'. And no, this is not the first time I'm trying Uitvlugt. Perfect salty liquorice, anchovies, olives, and a kind of salty smoke. Totally lovable, but please be careful, at this approachable strength, it goes down a little too well. Finish: long, salty, tarry, rubbery in a good way, and always pretty coastal. Smoked oysters? Comments: would kill many high-peaters from that famous island west of Kennacraig. Besides, I found it more phenolic than other Uitvlugts.

SGP:352 - 91 points.