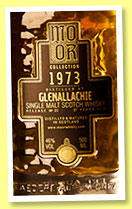 Glenallachie 37 yo 1973/2010 (46%, Mo Or Collection, bourbon hogshead, cask #6746, 266 bottles)

Colour: gold. Nose: b.i.n.g.o. I mean, bingo. Makes you want to kiss Chronos. Stunning notes of old earthy teas, tropical fruits aplenty (green bananas, papayas, proper avocado), waxed papers, cigars, pot-pourri, old leather jacket, Connolly leather polish (whatever), white chocolate, chamomile tea (and while I'm at it, manzanilla, which means chamomile anyway in Spanish), bandages and embrocations… A great, great nose. Mouth: perfect from Perfect's. Astounding combination with herbal teas, rather green tropical fruits, soft spices, more herbs, plantains, cough syrup, chartreuse, Bénédictine, verbena… and green anise, cardamom… Whoo-hoo-hoo, some ride, especially after the young 'mundaners'. Finish: quite long, slightly briny, very complex, spicy, mentholy, medicinal… Comments: a beauty, an ode to age and to time, and more proof that any distillery can make some world-shattering spirit, providing you give it… time. And yeah, time is money (wow, S., you've outdone yourself on that one!),

SGP:651 - 92 points.