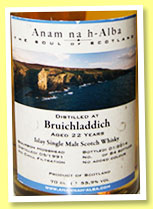 Bruichladdich 22 yo 1991/2014 (55.9%, Anam na h-Alba, bourbon hogshead)

Colour: straw. Nose: same ballpark, but this one's got a discreet smokiness, and perhaps a little less fruits. It's also got a wee farminess, which makes it a little more 'Highlands'. So far, so very good. With water: barley, gravel, fumes, Barbour grease… Mouth (neat): wow! Sharp, lemony, a little smoky, briny, mineral… I've had some ex-refill Highland Parks that have been a little bit like this. Green tea, smoked fish, pepper, lemon, chalk… With water: perfect. Sharp waxy lemons, oils, green pepper, some salt, greengages (no lemons this time!)… Finish: long, kind of smoky, lemony, fat, oily… Indeed, we're almost between Highland Park and Clynelish. Bruichladdich, you say? May we see the papers? (I know, yet another stupid joke). Comments: this little-known bottle is really worthy of your attention, even if it's quite un-Bruichladdich. Perhaps not a surprise, but… yeah, a surprise, a great surprise. Loved it.

SGP:562 - 90 points.