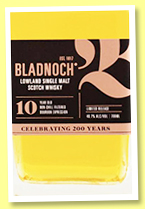 Bladnoch 10 yo (46.7%, OB, +/-2018)


Comes in this rather extra-terrestrial square bottle, but without a yoghurt pot in sight. Colour: straw. Nose: Angus actually thinks it is quite nice, it's very on raw ingredients, fresh barley, grass, yeast, very sourdoughy… I think it's less Bladnochy than earlier bottlings from the 2000s, you don't have this very elegant lemony Bladnochy character, and rather more cereal than before. But we agree it's a nice nose. The guy who invented the word 'nice' deserves a medal, if not a bottle. Mouth: rather creamier, with some flower seeds, more cereals, more grass, nice and fresh if not super-complex (says Angus). I would add that there are rather more limoncello-y notes than on the nose. Bitter lemon, that kind of thing people mix with gin to make gin drinkable, says Angus. Finish: rather medium, a wee tad chemical (instant lemon drink powder, something like Lemsip says Angus who uses that to cure his colds). Comments: some form of precision, more than in other whacky finished new siblings, and a sense of identity this time. Now we're still a little far from those very citrusy older officials.

SGP:551 - 80 points (Angus 80).